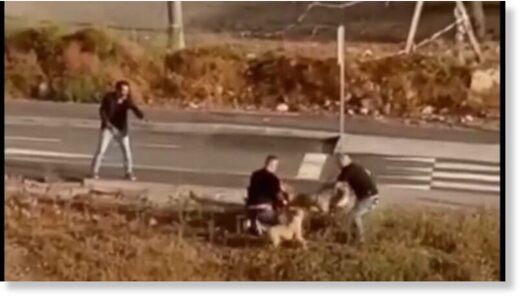 Three Spanish police officers attacked by dogs shoot one in Granadilla de Abona, while they were conducting an operation
A dog has been shot after four of them attacked police officers working on an operation in the regions of Granadilla de Abona in Tenerife, Spain.
According to Diario de Avisos, the incident took place on the morning of Wednesday, March 29, at 11.30 am, when two dogs attacked several Policia Nacional officers who were carrying out an operation of which no further details have been revealed.
The video of the incident was shortly posted online and shows four dogs around one man, who is accompanied by two others wearing civilian clothes.
It's not clear if one of the dogs was holding the arm of an officer or if the officer had held him by its collar.
Then an officer fires a round on the side, which can be heard in the video.
Shortly after, another officer comes close to distract the dogs and two of them then charge toward him to attack, resulting in him falling to the ground.
The third officer then quickly comes in and shoots another round from his gun at one of the dogs.
According to unofficial information, it appears that the dog that received the shot was injured, although the extent of the injuries is unknown.