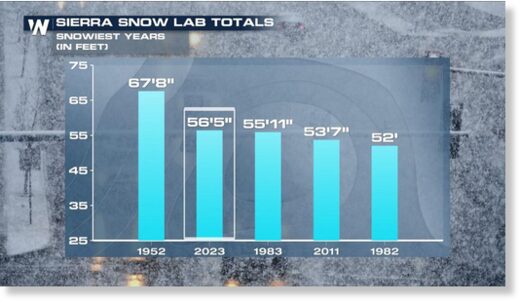 Snowpack statewide is over double the normal, and much above what we typically have by April 1st,
which is historically the deepest snow depth of the season.
More snow is ahead this week,
and while the moisture is wonderful for the state of the drought, the back to back systems are overwhelming California's soils & rivers.
The heavy rain and snowmelt led to widespread flooding around rivers and creeks, most notably in Porterville and Kernville in central California. Here, the rivers overflowed, resulting in mandatory evacuations for the surrounding communities.
The southern Sierra has benefited the most from the active winter season. Soda Springs, CA has received over 56 feet of snow this season, making this season the 2nd snowiest since records started in 1946!
We are about 11 feet shy of the record 1951-52 year but with more snow in the forecast, we will get awfully close in the next couple of weeks.
Another area of low pressure in our upper atmosphere will be teaming up with Pacific Moisture to keep the Southwest active through mid-week. Winter alerts stretch through the Sierra Nevada and San Gabriel mountains through Wednesday for heavy snow and gusty winds. Winter storm watches, warnings and advisories are in place across Northern California for the Sierra Nevada.
Snowfall totals will be quite hefty in the northern Sierra especially but even in southern California areas over 7,000' could see accumulations from a foot to up to two feet of snow.
Rain totals could be nearing another 3" for northern California and the Central Valleys, which will enhance the flood threat. There is a highlighted risk for heavy rain and flooding for southern California and the central valleys on Tuesday. Due to saturated soils from the previous 2 weeks' rain, an additional inch of rain could be enough to overwhelm the soils and cause flooding again.
(Read more
here
)