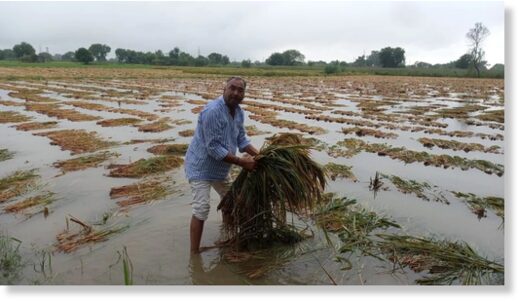 Storms, rain or hail could batter almost the entire country for another two days, an update by the India Meteorological Department said on Sunday.
Squally weather and rain have damaged wheat crop in almost all key producer states, but finding out the extent of losses might take weeks,
according to preliminary assessments by a panel formed in view of anticipated early-summer heatwaves.
Storms, rain or hail could batter almost the entire country for another two days, an update by the India Meteorological Department said on Sunday. Several rain-bearing systems are currently active, it said.
Crop-shriveling hot spells have, however, not struck any wheat-growing state in March so far, as predicted, barring pockets of Gujarat and Konkan in western India.
India is on alert over heatwaves which could pressure the economy, especially agriculture, power generation and water supply. Prime Minister Narendra Modi has been reviewing the situation, spelling out emergency measures.
Yet,
the weather took a turn around mid-March, as gale-force winds and precipitation over the past week harmed wheat in Uttar Pradesh, the largest grower, Madhya Pradesh, the second-largest producer, Punjab, Haryana and Rajasthan, according to farmers, meteorologists, traders and officials.
Adequate harvests are critical this year amid wheat shortages and high food inflation. Cereal prices climbed 16.73% in February, against a rise of 16.12% in January. India has forecast a wheat output of 112.3 million tonne, the highest ever. Harvesting is due by end of March.
"At this stage, rain and strong storms will damage fully ripened wheat, inundate fields, but to what extent is difficult to say unless official survey reports are in," a scientist from the Indian Council of Agricultural Research said, requesting anonymity.
While harvesting is now set to be delayed, the "losses should balance out overall" because wheat crops that are not yet fully mature "will get more time, especially since the threat of harvest-time heatwaves has almost completely receded", the expert said.
Heavy rainfall has been recorded in Punjab, Haryana, Odisha, Telangana, Kerala, Andhra Pradesh, Chhattisgarh and Tamil Nadu in the past 24 hours, the Met department said.
"Half of my crop has fallen. When rains soil the crop, winds easily knock them off," said Budh Singh, a farmer from Amritsar and a local leader of the Bharatiya Kisan Union, a farmers' collective.
Wheat prices have taken a hit, traders said. "It's like getting rains on a wedding-reception day. Everything was normal. Farmers kept harvested grains in the open. Spot prices have fallen," said CP Gupta, a wholesaler in Kota, Rajasthan.
In Madhya Pradesh, which has an early crop cycle, growers have harvested nearly 50% of the crop with higher yields, a second official said, but there are concerns about the remaining half.
"Hail, rains and winds of up to 80km hit many parts like Khajuraho and Bhopal," said Mahesh Palawat, a meteorologist with private forecaster Skymet Weather Services.
In Uttar Pradesh's Lalitpur, Jhansi, western UP, Banda, Chitrakoot, Rae Bareli, Amethi and Noida, wheat, gram and mustard fields have been hit. "The damage in Bundelkhand seems to be widespread and farmers should be compensated," said Sudhir Panwar of Lucknow University.
In Haryana, experts said that more rain could delay the harvesting.
The Haryana Department of Agriculture and Farmers Welfare said, "At this stage we cannot make any assessment of crop loss but we have sought reports from state. Even there are reports of mild-hailstorm in parts of Kaithal and Rewari districts but we are waiting for the final reports".
A farmer in Karnal's Gharaunda Sandeep Tyagi said, "Most of the early sown varieties of the wheat crop is at the half-ripened stage, flattening of the crop at this stage, will cause shrinking in immature wheat grain, leading to a fall in the yield."
The unseasonal spells of heavy rain and hail have also damaged tea plantations in north Bengal, owners of the tea estates said.
The worst affected plantations are in the Dooars region.
"We have lost at least 20% of the first flush harvest which fetches the maximum price. The harvesting started on March 10," said Shib Kumar Saria, owner of Rohini Tea Estate, one of the affected gardens.
Not all of the rain is bad, as they will replenish soil moisture after a dry, warm winter, especially in peninsular India, said Amit Kochhar, an agri-warehousing agent. There are apprehensions that India could face a monsoon-destroying El Nino weather pattern this summer.