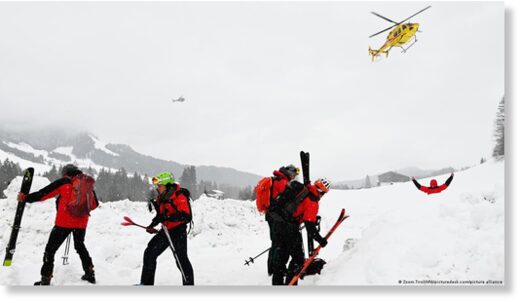 Austrian authorities logged at least 17 avalanches in the popular skiing destination of Tyrol over the past 24 hours. The dangerous conditions there and in Switzerland have already claimed five lives.
At least five people were killed in avalanches in the Austrian and Swiss Alps, authorities said on Saturday.
Three of the dead were killed while visiting the Austrian Alps.
Officials in the Austrian state of Tyrol have urgently cautioned tourists, skiers and other winter sports athletes to avoid the slopes amid a very high avalanche risk.
What we know so far
A winter sports enthusiast was found dead in Kaltenbach on Saturday. APA, the Austrian news agency, quoted police as saying the victim was a 17-year-old from New Zealand who had been skiing off piste.
On Friday, a 32-year-old Chinese national was killed in an avalanche in the area. A 15-year-old boy was also severely injured after being dragged by an avalanche.
A third victim, a man in his 50s, was found dead after being reported missing Friday in the Kleinwalsertal valley on the Austrian border with Germany.
In the Swiss canton of Graubünden, two skiers died off-piste, authorities there said. A third member of the group managed to escape. The two dead include a 56-year-old woman and a 52-year-old man.
Authorities were able to locate their locations using signals from their emergency locater transceivers.
By Saturday afternoon, authorities at the control center in Tyrol said they had logged 17 avalanches. Nine of them were said to have affected people.
Why is the avalanche risk so high?
Regions of the Alps in Austria and Germany have experienced heavy snowfall in recent days.
The fresh snow, along with high winds, has heightened the risk of spontaneous avalanches to dangerous levels.
In Austria, many areas are currently under a level 4 avalanche warning on the country's five-level scale.
"The danger exists in particular in [the] alpine snow sports terrain," the Avalanche Warning Service in Tyrol said in a statement, saying spontaneous mid-sized and large-scale avalanches are to be expected.
Officials have urged tourists and athletes, especially inexperienced skiers, to avoid any unsecured pistes.
"The warning is very clear — inexperienced people should stay on the secured pistes over the next few days," Patrick Nairz, an official with the Tyrol avalanche alert service, told Austrian public broadcaster ORF.
He said he understood the disappointment of tourists who wanted to take advantage of the snow, especially after the region's ski season started late due to unseasonably warm weather.
"The guests are coming. Lots of people are traveling and now there is finally snow — but the situation is really dangerous," he said.