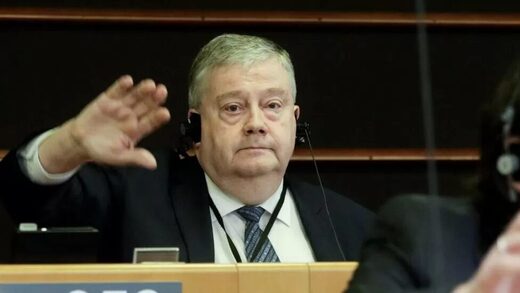 Two MEPs have had their legal immunity lifted by European lawmakers, following a request by Belgian authorities investigating a corruption scandal that has rocked the European Parliament.
Italian Andrea Cozzolino and Belgian Marc Tarabella deny wrongdoing.
The Qatargate affair unfolded when a Greek lawmaker and three other suspects were arrested on suspicion of corruption and money-laundering.
One of the suspects then agreed to "tell all" as part of a plea deal.
Pier Antonio Panzeri is alleged to have led a network that took bribes from Qatar and Morocco in return for influencing the European Parliament. Some €1.5m (£1.3m) was recovered in cash in a series of raids in Brussels and Italy.
Both Qatar and Morocco have strenuously rejected allegations that they sought to gain influence over MEPs. However, prosecutors said Mr Panzeri had admitted "criminal responsibility".
Mr Tarabella's home was raided last month when Belgian police detained the four suspects. Prosecutors then asked the parliament to lift his immunity from prosecution as well as Mr Cozzolino's. Both men were members of the parliament's centre-left Socialists and Democrats grouping.
The votes happened with little ceremony in a matter of seconds when lawmakers began a session of the European Parliament on Thursday morning. MEPs simply raised their hands as the details were read out.
Marc Tarabella attended the vote himself, making his way through a scrum of reporters as he headed into the chamber. Afterwards he told me he had voted to waive his immunity in order to "be able to respond to the investigators' questions and help authorities shed light on this affair".
According to the parliament report on Mr Tarabella,
he is suspected by investigators of backing "certain positions within the European Parliament in favour of a third country in return for cash payments" for two years. Testimony against him suggests several payments totalling €120,00-€140,000, the report adds.
"Of course I deny any wrong," he told the BBC. Asked if had ever taken money to influence proceedings in the European Parliament he said: "Never in my life!"
The parliament's report on his Italian colleague cites investigators alleging participation in a criminal organisation and money laundering. Mr Cozzolino's lawyers said last month that he was innocent and that he had carried out political activity in a "free and transparent way, having nothing to do with the crimes being investigated".
He resigned last month as head of the parliament's delegation that works with the Maghreb nations, including Morocco.
Last month prosecutors said Mr Panzeri, who is an Italian ex-MEP, had agreed to provide details about how the scandal worked and who was involved in return for a shorter sentence of a year in jail. He ran an NGO called Fight Impunity in Brussels.
His wife and daughter were freed from house arrest last week as part of the plea deal.
Three other suspects remain in jail on suspicion of corruption and money laundering:
Greek MEP Eva Kaili was stripped of her role as one of the 14 vice presidents of the parliament last month but denies involvement in the affair
Her partner, former parliamentary aide Francesco Giorgi, is reported to have partly confessed to his alleged role
Niccolò Figà-Talamanca, who runs an NGO from the same building as Mr Panzeri, has also denied all knowledge of the scandal.