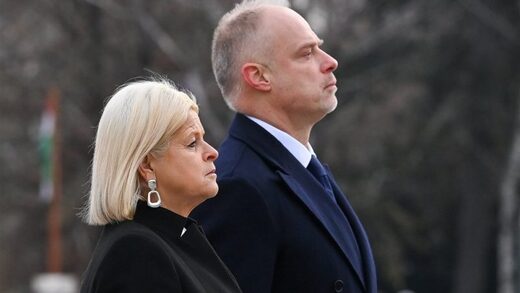 Austria and Hungary agree on not sending weapons to Ukraine, Austrian Defence Minister Klaudia Tanner and her Hungarian counterpart Kristóf Szalay-Bobrovniczky said at a meeting in Budapest on Monday, stressing their close cooperation.
Austria and Hungary's position regarding the war in Ukraine is clear, as both countries are not sending weapons to the conflict area to prevent a further escalation, Tanner and Szalay-Bobrovniczky stated during a joint press conference.
They would be on the side of peace, with Austria being militarily neutral, Szalay-Bobrovniczky stressed, while providing humanitarian aid to war refugees.
Close cooperation would be the most important as "we live in a time of danger,"
he said.
According to Tanner, the greatest danger is that
the war could spread to Europe, which would not only be a matter of conventional war but also of an interplay with hybrid warfare and an increase in migration in general
.
"The effects are not only enormously felt in Austria, but also in Hungary.
Eventually, the routes run through our neighbouring country to us,"
Tanner stressed, APA reported. Both sides agree that a stable Western Balkan region also plays an important role about migration, she added.
Austria already called for a
speedy integration of the West Balkan states
, with Integration minister Susanne Raab demanding the EU to "finally get going" back in November.
That same month, Chancellor Karl
Nehammer teamed up with Hungary and Serbia to stop asylum seekers from picking and choosing the countries they apply for asylum in, signing a memorandum of understanding about pushing illegal migrants back away
to end "asylum a la carte
."
The number of asylum requests in Austria tripled last year to 108,490 applications, making it the EU nation with the sharpest increase overall. Meanwhile, Hungary registered the least applications, with just
46 requests
.
The fact that the Visegrad country refuses to register asylum seekers, contrary to EU law, was not mentioned by Tanner.
In the past, Hungary said it came under increased pressure due to refugees fleeing the war from neighbouring Ukraine, while critics point out that few refugees choose to stay in Hungary.
Tanner also emphasised good cooperation with Hungary in seven foreign missions, APA reported. At the same time, the minister called for the EU to act more decisively about the approaching NATO enlargement. The lack of unity in European security policy would open the door to new dangers, she said.