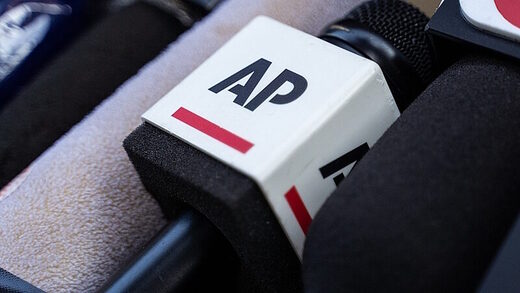 The Associated Press Stylebook said terms such as 'the French' are potentially dehumanizing
The
Associated Press Stylebook
was once again mocked on social media after its latest suggestion to do away with terms involving the word "the" to avoid "dehumanizing" people.
The AP Stylebook's Twitter account, which usually posts guidelines on reporting, officially recommended on Thursday to avoid "'the' labels" when referring to groups including, for some reason, "the French."
"We recommend avoiding general and often dehumanizing 'the' labels such as the poor, the mentally ill, the French, the disabled, the college-educated. Instead, use wording such as people with mental illnesses. And use these descriptions only when clearly relevant," the tweet read.
Several Twitter users quickly swarmed and attacked the tweet for what many considered a ridiculous suggestion as well as an oddly-worded statement.
"What's the rule for 'the Associated Press'?" National Review senior correspondent Jim Geraghty asked.
"The people experiencing journalism at the AP have their work cut out for them," Washington Post columnist Megan McArdle tweeted.
"Should we stop referring to 'the' AP Stylebook and refer to 'a stylebook experiencing stupidity?'" MRC associate editor Nicholas Fondacaro wondered.
"'The AP' is run by children," RedState editor Kira Davis remarked.
People were especially tickled by the inclusion of "the French."
"'The' has been canceled, y'all," Ricochet editor-in-chief Jon Gabriel joked. He added, "Instead of 'The French,' please use 'snail-sucking Gauloises.'"
"I wonder what people with French nationality, I mean, people who are from France and live there, or who live somewhere else but still identify with France, will make of this?" video game designer Jordan Mechner wrote.
Washington Post columnist Christine Emba suggested, "People experiencing Frenchness," "differently European" and "Eurodivergent" as alternatives.
Washington Examiner contributor Harry Khachatrian joked, "Unclear why it's preferable to refer to French people as 'people with mental illnesses,' rather than just calling them 'The French.'"
Even the Embassy of France responded, writing, "I guess this is us now..." with a screenshot of the Twitter account changing its name to "Embassy of Frenchness in the US."
The Associated Press has been called out for years on its more bizarre changes to its style guidelines. In 2021, Twitter users mocked the publication's recommendation of avoiding the term "mistress" to describe a woman in a sexual-relationship with a married man.
"Don't use the term mistress for a woman who is in a long-term sexual relationship with, and is financially supported by, a man who is married to someone else. Instead, use an alternative like companion, friend or lover on first reference and provide additional details later," the tweet read.
Other guidelines over the years were attacked for appearing to have political motivations. In 2015, the Associated Press removed the term "illegal immigrant" from the Stylebook. As recently as December, the AP Stylebook also
rejected
the terms "fetal heartbeat" and "late-term abortion," claiming that they were too "overly broad and misleading" regarding gestation ages.
One suggestion that irritated both conservatives and liberals alike included August's update when the AP Stylebook's
Twitter account
announced that it would include both "pregnant women" and "pregnant people" as acceptable phrasing.
"We now have guidance saying that 'pregnant women' or 'women seeking abortions' is acceptable phrasing. Phrases like 'pregnant people' or 'people seeking abortions' are acceptable when you want to be inclusive of people who have those experiences but do not identify as women," the tweet read.
Lindsay Kornick is an associate editor for Fox News Digital. Story tips can be sent to lindsay.kornick@fox.com and on Twitter: @lmkornick.