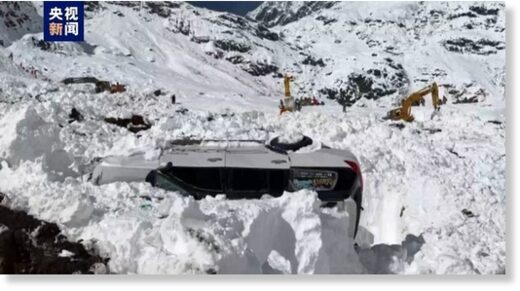 The death toll from a tragic avalanche in Tibet has reached 28, as multiple vehicles were buried in deep snow and ice on a section of road connected to a tunnel.
Fifty-three people were rescued following the avalanche on a section of road between Pai village in Mainling county and the Doxong La tunnel in Medog county on January 17.
Chinese state media reported late on Friday that rescue workers had been digging by hand when they uncovered eight more bodies which bought the search to an end.
On Tuesday, the avalanche hit a road and highway tunnel, connecting the city of Nyingchi in Tibet's southwest with outlying Medog county, leaving people trapped in their vehicles as snow engulfed the exit of the tunnel.
Of the fifty-three survivors found, five of them were seriously injured, the official Global Times reported, citing a local government official.
State-run Xinhua news agency reported that local authorities sent 1,348 rescue workers and 236 pieces of equipment to help excavate a passage of 4.66 miles.
The local government also deployed 229 vehicles, 2,951 items of rescue equipment and 256 professional rescue personnel. More than 550 relief items, including tents, stretchers, quilts and cotton-padded clothes, had been sent to support the rescue teams, the report said.
A local villager told the
Global Times
that most people travelling at the time of the accident were Tibetan people returning to their hometowns for the Lunar New Year.
"The snow was so deep it was as high as to people's waist, and the road is very slippery. Many rescue workers stumbled all the way there," a local health centre employee said to the
Global Times.
The city of Nyingchi initiated a level-III natural disaster emergency response on Wednesday due to the significant precipitation in the high-altitude mountainous areas of Nyingchi which triggered multiple avalanches.
Nyingchi lies at an elevation of about 3,040 metres and is about five hours' drive from the regional capital, Lhasa.
Reports say the avalanche was triggered by strong winds as the weather gets warm.
In October, another avalanche in the Himalayas killed at least four people and several others went missing after a group of 41 mountaineers was hit on a mountain peak located in the Gangotri range of the Garhwal Himalayas.