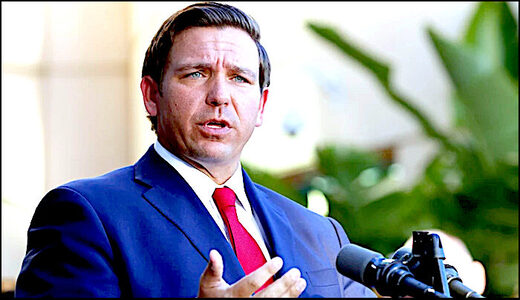 Florida Gov. Ron DeSantis 's administration has blocked the inclusion of an Advanced Placement class centered on African American Studies in high schools .
The Washington Examiner obtained a letter from the Florida Department of Education's Office of Articulation to the College Board stating that
the course is "inexplicably contrary to Florida law and significantly lacks educational value."
The letter did not elaborate on what particular parts of the course content they found to be questionable.
Florida Education Department Press Secretary Cassie Palelis, in a statement to the Washington Examiner, said:
"If the course comes into compliance and incorporates historically accurate content, the Department will reopen the discussion."
This is a significant win for DeSantis,
who had several portions of his
Stop WOKE Act
that would restrict critical race theory instruction in public university classrooms scrapped. Judge Mark Walker, who struck it down, compared the legislation to George Orwell's authoritarian dystopian novel,
1984
.
In 2021, Florida enacted a law that banned teaching critical race theory,
a catch-all term for lessons and policies that encourage children to see themselves and others
almost exclusively through the lens of race,
as well as the 1619 Project
, a
New York Times
project that
reframed American history around the arrival of slaves in America.
The College Board unveiled plans to offer the African American studies course
last year and is being piloted in 60 schools during the 2022-2023 school year. The board's goal is
to have the course in all U.S. schools
for the 2024-2025 school year, with the first exam to take place in spring 2025, per the
website
.
The AP course organization did not address the Florida decision directly, but said in a statement to the Washington Examiner that the African American Studies course, like all classes, will collect feedback from students, teachers, and policymakers while going through its multi-year pilot program.
The board said:
"We look forward to bringing this rich and inspiring exploration of African-American history and culture to students across the country."
Florida state Sen. Shevrin Jones wrote in a Twitter post on Wednesday pointing out several AP classes that are taught at schools across the country, including AP European History, AP Art History, and AP Japanese, German, Italian, and Spanish Language & Culture.
"It's crazy how AP African-American studies made the chopping block in FL," he wrote.
In another post, he equated the administration's decision to
"political extremism."
The Washington Examiner reached out to the Department of Education's Office of Articulation for comment.