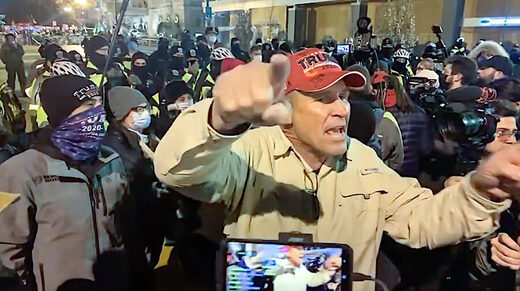 Ray Epps
, the man who has been the subject of right-wing conspiracies that he was a federal informant after he was filmed corralling rioters during the Capitol riot, told the Jan. 6 committee that he never made contact with law enforcement.
Allies of former President Donald Trump and some members of the right-wing media have said
Epps
, a former head of an anti-government militia group, may have provoked rioters
during the attack on Jan. 6, 2021.
New transcripts released by the committee, however,
appear to undercut this theory,
which
Epps said in July
may propel him to sue public figures.
Epps, behind closed doors by the committee, according to the transcripts
released
on Thursday, was asked:
"At any point on January 5th — so we've asked you this question about December 27th through January 4th, but now let's just focus in on January 5th. Did you coordinate or speak with any law enforcement officials from the FBI?"
"No, sir," replied Epps, clarifying that he also did not speak or coordinate with police, the CIA, or the National Security Agency.
"Any other law enforcement officials, other than the other folks you mentioned earlier, you might have interacted with at the plaza as you were deescalating?"
Epps was also asked, to which he said, "No, sir."
In other places during his testimony, Epps revealed that
he tried to calm down rioters
who were in the vicinity of police.
One of these rioters was the internet personality "Baked Alaska," also known as Anthime Gionet,
who is
going
to jail in 2023 in connection to his participation in the Capitol riot and
has
accused
Epps of being an informant.
Epps told the
New York Times
in July that he has "suffered enormously" because of the informant allegations against him. The former president of the Arizona-based
Oath Keepers
, a far-right group, said he moved out of his Arizona residence and sold his business amid people calling him a coward and political traitor.
The Jan. 6 committee has previously
indicated
Epps said
"that he was not employed by, working with, or acting at the direction of any law enforcement agency on Jan 5th or 6th or at any other time, & that he has never been an informant for the FBI or any other law enforcement agency."
The theories surrounding Epps spread after a video surfaced of
him at the Capitol barricades
speaking into the ear of a Jan. 6 rioter named Ryan Samsel. Following this exchange, Samsel then confronted the police. Without evidence, some Republicans said Epps had instructed Samsel to target the officers.
Rep. Marjorie Taylor Greene (R-GA) in June, referring to Epps,
asked
:
"I think somebody that worked that hard to get people to go in the Capitol, why aren't they rotting away in the D.C. jail having their due process rights violated just like these other people here? I think that's the questions that we should ask."
Epps was not arrested on Jan. 6,
which became further ammunition for those pushing the informant conspiracy. This came after he had texted his nephew on Jan. 6 after the riot began
explaining how he organized a group of protesters to move from Trump's speech to the Capitol.