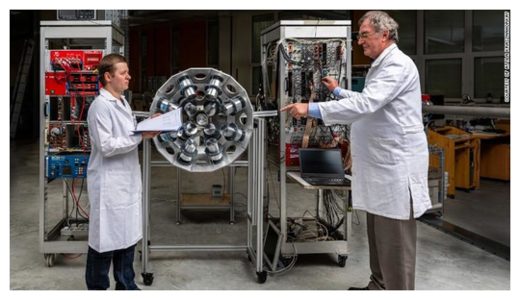 In recent years, a group of Hungarian researchers have made headlines with a bold claim.
They say they've discovered a new particle — dubbed X17 — that requires the existence of a fifth force of nature.
The researchers weren't looking for the new particle, though. Instead, it popped up as an anomaly in their detector back in 2015 while they were searching for signs of dark matter. The oddity didn't draw much attention at first. But eventually, a group of prominent particle physicists working at the University of California, Irvine, took a closer look and suggested that the Hungarians had
stumbled onto a new type of particle
— one that implies an entirely new force of nature.
Then, in late 2019, the Hungarian find hit the mainstream — including a story
featured prominently on CNN
— when they
released new results
suggesting that their signal hadn't gone away. The anomaly persisted even after they changed the parameters of their experiment. They've now seen it pop up in the same way hundreds of times.
That leaves some physicists excited by the prospect of a new force. But even if an unknown force is not responsible for the strange signal, the team may have revealed some novel, previously unseen physics. And if confirmed, some think the new force could move physics closer to a grand unified theory of the universe, or even help explain dark matter.
However, so far, most scientists remain skeptical. For years, researchers tied to the Hungarian group have claimed to discover new particles that later vanished. So other scientists are content to wait for more data that either confirm or refute the finding. But it could be a long wait.
"From a particle physics perspective, anomalies come and go," says Daniele Alves, a theoretical physicist at Los Alamos National Laboratory. "We've learned over time to not be too biased with one interpretation or the other. The important thing is to get to the bottom of this."