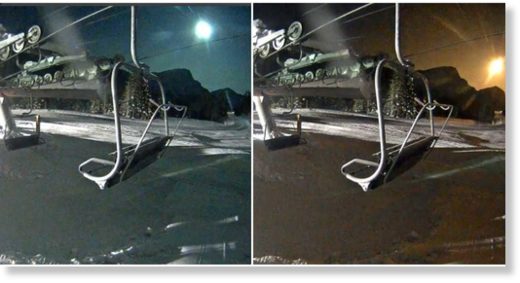 A ski resort in Banff National Park captured a massive fireball meteor burning through the sky early in the morning on Wednesday, February 19. Sunshine Village's IT team checked on their Jackrabbit chairlift camera after hearing reports of an
Alberta meteor
sighting. As revealed by the time mark on the footage, at around 12:16 a.m, a giant exploding meteor ripped through the sky in the north-east direction.
This isn't the first time this month that Albertans caught a fireball exploding across the sky.

Calgarians witnessed a dazzling fireball flying across the sky on Saturday, February 9, leading locals to go on social media to react to this unusual sighting in the sky.
We might have missed this week's astronomical phenomena altogether had it not been for the Jackrabbit camera situated on the ski hill's chairlift.
The footage shows a massive ball of white light moving across the sky and as it falls, it explodes into a yellow flame. By the time it hits the horizon, it has completely disappeared.
It may have only lasted for a few seconds but these are the kind of natural sensations that last in our memories for a long, long time.
Kendra Scurfield, a spokesperson for Sunshine Village, spoke to CTV News about the rare sight. She said their cameras tend to catch amazing wonders like this from time to time.
She added, "It was a huge fireball, almost like the sun."
Scurfield also said that their lift camera had previously recorded videos of the meteors during the Perseids meteor shower.
The Calgary Herald
stated that the University of Calgary has reached out to the resort to access this video so that they can locate where the meteor fell. They are looking to harvest the meteorite.
One of the best things about living in Alberta is getting to experience its most magnificent, unbelievable skies.
Just last November, Alberta and B.C. skies lit up with the Unicorn meteor shower.
Similarly, another meteor left behind a trail of burst clouds as it zipped across the Edmonton skies in September.