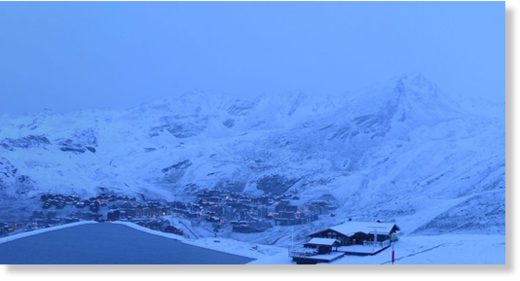 A major storm system that's hitting the Western side of Europe is bringing heavy snow to the Alps and Pyrenees.
Snow forecasting agencies have been going big on what they're forecasting the storm to dump on ski slopes by the time it blows through on Tuesday/Wednesday, with some resorts predicted to get more than a metre of snow in total up high.
So far there aren't many pretty images, but here's what Courmayeur looked like this afternoon.
Val Thorens, which is due to open in just under three weeks' time, posted the picture top at first light this morning, and the video below this afternoon.
Currently there are 16 ski areas already open for winter 19-20 in the alps, most of them with glaciers.
Several were closed because of the storm today, which sometimes has strong winds as well as the heavy snowfall giving blizzard conditions.
There have only been a few small snow storms, heaviest in the Central and Eastern Alps, over the past few months, so the forecast big accumulations will be welcomed by resorts already open once the weather clears, and those opening later this month.
It is not just the Alps but also the Pyrenees getting lots of fresh snow. Resorts in the French Pyrenees, Andorra and Spain all report heavy snowfall too.
Here the storm totals are expected to be in the 25-50cm range,
which may be enough for the first areas to open in the coming week.
Back in the Alps, Alpe d'Huez posted this image this afternoon.