Comment: Until this happened in Texas yesterday, this wasn't known to have been physically possible...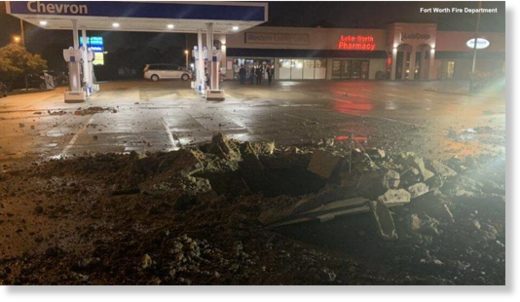 A powerful lightning strike left a huge hole in a Fort Worth parking lot just after 6 a.m. on Shadydell Drive and Boat Club Road on October 30, 2019.
The parking lot,
shared by a Chevron gas station
and a strip center now has a 15 feet wide and 3 feet deep hole. I have never heard of such events. Pretty powerful lightning, isn't it?
The lightning strike
blew a 400-pound diesel pump out of the ground
. And dig this huge hole in the ground.
The blast comes on the 81st anniversary of
The War of the Worlds radio broadcast
, the one
where a strange cylinder falls from the sky and aliens emerge from the ground and attack.
"
When I drove by, I was like, 'Wow,'
" onlooker Don Thomasson said. "
I make sure to stop and check it out. It's something else, it's something else,
" onlooker Joe Guhadro added.
First, the surveillance camera footage:
And then the consequences of the lightning strike:
Clean up crews said
the fuel tank, located about 10-feet underground
, doesn't appear damaged and isn't leaking.
Comment:
That's very interesting, considering the number of times lightning (and what we suspect are other forms of atmospheric electric discharge, including such done by incoming meteors) has hit chemical plants and fertilizer storage facilities in recent years. Certain chemicals - and certain concentrations of them, seem to act as 'attractors' for electric discharges.
See also:
Was the West, Texas Explosion a Meteor Impact?
Asphalt and debris landed some 65 feet away.
Luckily, no one was hurt.
"
It destroyed the concrete. It's insane,
" onlooker Zak Moore said.
Wendy Jimenez was working inside a nearby donut shop when the bolt hit. "
It was like 'boom.' I looked at him, we looked at each other, and was like, 'What was that?'
" she recalled.