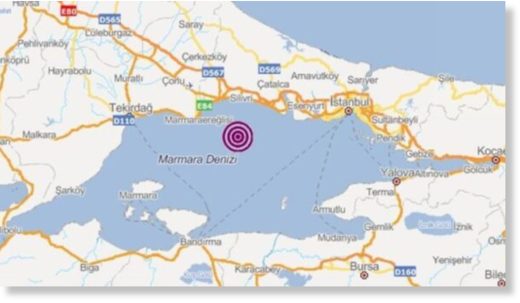 An earthquake measuring 5.8 magnitude shook Istanbul on Thursday, causing panic among residents, the evacuation of schools and public offices, and at least some damage to buildings.
Turkey's Disaster and Emergency Management Authority said in a statement that the quake struck in the Sea of Marmara at 13:59 pm (10:59 GMT) at 6.9 kilometres below ground.
President Recep Tayyip Erdogan said eight people were injured and had received treatment. "Apart from small damage, we have not received any reports so far that would pain our hearts," he said.
Health Minister Fahrettin Koca on Twitter confirmed there were no deaths.
Buildings shook, children were assembled and hurried out of schools, and office workers rushed out into streets of Europe's largest city.
In central Istanbul, the quake could be felt for as long as 15 seconds, shaking glassware and knocking over furnishings. In the Istanbul district of Avcilar, on the European side of the Bosphorus, the quake knocked down a minaret of a mosque.
The quake was reportedly felt in neighbouring provinces. On Tuesday, a 4.6-magnitude earthquake also hit off Silivri, a district of Istanbul province.
Turkey is crossed by fault lines and prone to earthquakes.
More than 200 were killed and 1,000 injured after a powerful 7.2 earthquake hit southeastern Turkey on 23 October 2011.