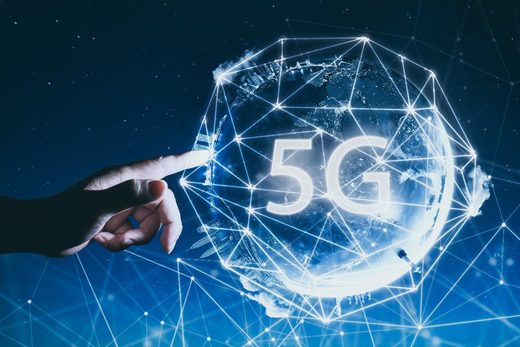 Russian mobile operator MTS has teamed up with Chinese tech giant Huawei for a 5G pilot scheme in Moscow and Kronshtadt, where for the first time the super-fast network will cover almost the entire city.
The agreement between the two parties was signed during Chinese President Xi Jinping's visit to Russia in June, when he met his Russian counterpart Vladimir Putin and took part in the St. Petersburg International Economic Forum.
The network became operational at the VDNKh (All-Russian Exhibition Center), one of the major attractions in the Russian capital, on Thursday. Functioning on the 28GHz and 4.9GHz frequency bands, it
will test so-called Smart City technology
, designed to improve security and urban services management, as well as helping to develop the transport system, according to MTS.
5G also makes some futuristic movie-like applications realistic, for example, you can make a "holographic" phone call, the head of Huawei's division in Russia, Zhao Lei, said. It also speeds up development of self-driving transport in the city and
other future technologies
, according to Eduard Lysenko, head of the Department of Information Technologies of Moscow.
Comment:
'Other future technologies' - a euphemism for total surveillance in a world where privacy and security becomes impossible?
James Corbett shares
a disturbing vision of 5G's threat to freedom:
The vision of the future offered by the proponents of this next-generation cellular technology is one in which every object that you own will be a "smart" object, communicating data about you, your movements and your activities in real time via the ultra-fast 5G network. From the grandiose-self-driving cars and remote surgery-to the mundane-garbage cans that let garbage trucks know when they're full-everything around us will be constantly broadcasting information through the Internet of Things if the 5G boosters get their way.

But beyond the glossy sci-fi fantasy presented in the slick advertisements for this "smart" world of the future is a creepy and unsettling glimpse into a technological dystopia. One in which "social experiences" are "shared" by strapping VR goggles to your face and interaction with humans is reduced as much as possible in favor of interaction with machines, gadgets and personal assistants that are there to cater to your every whim . . . for a price. And, as some are only now starting to realize, the price that one pays for this world of robotic comfort and convenience is control. Control over our data. Control over our security. And control over our lives.
While the super-fast network is now available only around one pavilion of the historical complex,
by 2020 the pilot zone is expected to expand and cover almost the whole of the VDNKh area.
"According to our forecasts, we expect a sevenfold increase of 5G traffic in Moscow by 2025," said Igor Egorov, MTS's Moscow region director.
Meanwhile in Kronshtadt, a city in Kotlin Island, not far from St. Petersburg, is to become the first city in Russia where the next-generation network covers almost the entire population, according to MTS.
Those who have 5G-capable smartphones will enjoy super-fast internet, as the first phone connected to the network demonstrated an internet speed of 1.2Gbps. In reality, it means that it will take you around one minute to download a full HD movie.
Comment:
A poor trade-off:
5G technology and the coming health crisis
People's exposures to EMFs (electromagnetic frequencies) have been known to result in, for examples, neurological effects, brain tumours, learning difficulties, nervous, hormonal and behavioural problems... It has been said that the same will happen with 5G technology. What about children? They are more susceptible than adults because their smaller bodies take in higher EMF radiation. Thus, if allowed, 5G will be another addition to the list of silent killers associated with deceptively harmful technology.
The first 5G zone was launched in Moscow earlier this month, covering the famous Tverskaya Street. Swedish telecom company Ericsson provided the equipment for the network, which is run by Russian mobile operator Tele2.