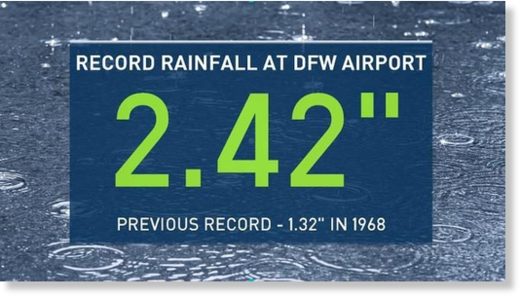 Sunday's rain shattered a 51-year-old record by more than an inch
With the two rounds of rain and storms Sunday -- first early in the morning then again in the afternoon -- a record amount of rain fell at DFW Airport.
Since midnight, the airport received 2.42 inches of rain. That shatters the old record of 1.32 inches that fell on June 16, 1968. Records have been kept for the DFW observation point (not always DFW Airport) since 1898.
DFW Airport wasn't the only place that had heavy rain.

Alliance Airport in far north Fort Worth had a total of 4.60 inches of rain fall since midnight. In McKinney, the total for Sunday was 2.89 inches.