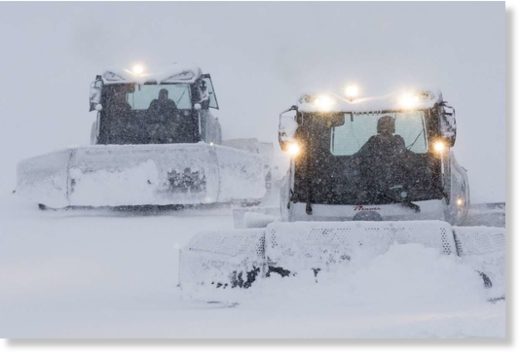 Across the flank of the Tahoe Basin,
miles of forest are glazed with a white frost and tree branches are flexing under the weight of snow.

This is the first week of December?
The scenes across the Sierra Nevada and Shasta-Cascade ranges are a testament to
early-season storms that have swept across the high country in Northern California.
In contrast with last year, all 23 ski areas — big and small — are projected to be open by the Dec. 14-16 weekend, just in time for a banner Christmas holiday season.
Along Highway 89 near Tahoma on the west shore of Lake Tahoe, you can stand at Homewood Mountain Resort and see snow stretching from your boot tips to the crest. Ice-encrusted Ellis Peak towers overhead like a giant serac.
Earlier this week, scarcely a breath of wind whispered off Lake Tahoe.
Homewood, set just above lakeside at 6,230 feet, will open for the season Friday, a landmark early opener. Because of its low elevation, it is typically the last Tahoe ski area to open.
"If it's good at Homewood, you know it's good everywhere," said Kaersten Swain, a member of Homewood's guest-services unit, as preparations continued for the opener.
Compared with last year, the High Sierra this year is mind-boggling. At this time (and well past Christmas) last year, for instance, Homewood, Dodge Ridge, Yosemite and Mount Shasta were dealing with bare dirt.
Others were trying to make a sell job, that even if the ground was bare at the parking lots and lodges, don't worry, just take the lift and somewhere on the mountain, the snow will start to appear. In some cases, that consisted of strips of homemade stuff that was edged by dirt and trees.
This year, Boreal opened Nov. 13 and each week since then has brought with it more snow. And with the snow piling up, ski areas across the Sierra are scrambling to call in employees and make new hires to open the gates. Most are looking at a season of at least 150 days — one that is expected to stretch into early April.
"As best as we can figure, this snow is from heaven," said Janet Tuttle at Donner Ski Ranch, the ski area just south of Interstate 80 that plans to open Friday.
Mammoth Mountain, 150 miles south of Lake Tahoe, claims the most snowfall and highest snowpack in North America. On Wednesday morning, the resort said its summit had topped 100 inches for the season, with a 40-inch base at the lodge and 70-inch base on top.
That is enough to open 94 of 150 runs, with more lifts and runs expected to open this weekend, plus three terrain parks.
"The snow is cold, light and velvety," said Justin Romano at Mammoth. "Get after it."