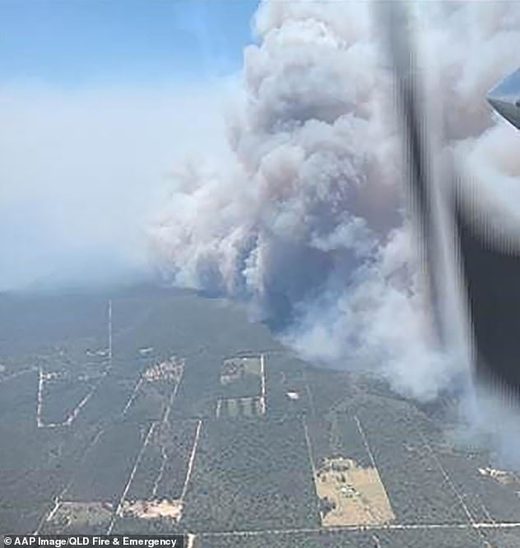 Nearly 10,000 people have been told to flee immediately as more than 100 fast-moving blazes
tear through Queensland amid the state's bushfire crisis.
Thousands of people were evacuated from communities in central Queensland after catastrophic fire conditions on Wednesday.
Early on Thursday, residents of two more communities - Campwin Beach and Sarina Beach south of Mackay - were woken by police and emergency text messages telling them they were in danger and to move to safety immediately.
About 140 bushfires were burning across an almost 2,000km stretch from Yungaburra, south of Cairns, to Mount French, west of the Gold Coast.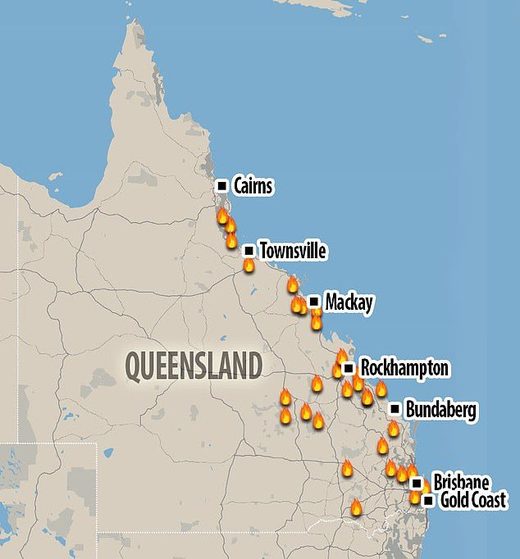 About 140 bushfires are burning across an almost 2,000km stretch from Yungaburra, south of Cairns, to Mount French, west of the Gold Coast
QFES Assistant Commissioner Gary McCormack warned anyone who had not yet left to evacuate immediately.
'Leaving their home is the safest option, for them and their families. They need to take advice as given,' he told the Nine Network on Thursday.
Reports emerged on Thursday morning of looting in at least one community.
The Queensland Fire and Emergency Service said homes and lives were under threat, with firefighters struggling to have any effect on the blaze.
However, favourable conditions overnight allowed firefighters to make some progress.
Roughly 8,000 people were ordered out of Gracemere, near Rockhampton, on Wednesday, with hundreds of them spending the night in an evacuation centre at the Rockhampton showgrounds.
Thick, billowing smoke surrounded the town, as the blaze edged closer to homes and shopping precincts in the region.
'People will burn to death,' Queensland's deputy police commissioner Bob Gee warned on Wednesday.
'Their normal approaches probably won't work if this situation develops the way it is predicted to develop.
'It is no different to a Category 5 cyclone coming through your door.'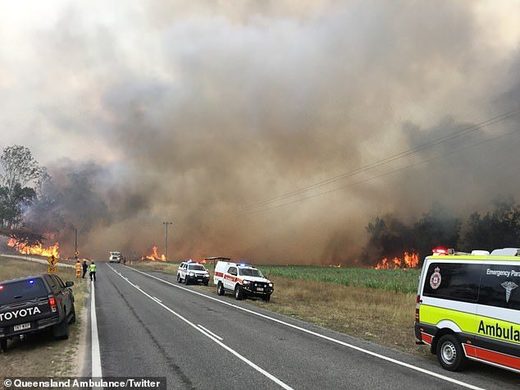 'If you have children with you, you need to think really hard about not losing a house, but losing the people you care most about.'
Dangerous conditions prevailed again on Thursday.
But authorities expected they won't rival what was seen on Wednesday, when Queensland's fire danger rating reached catastrophic
for the first time in the state's history.
There had been no reports so far of property losses in Gracemere, but firefighters say the battle was not over.
Overnight, police declared an emergency for the Sunshine Coast community of Little Creek, after a fire threatened homes there.
But that was revoked about 3am on Thursday.
The communities of Deepwater, Baffle Creek, Rules Beach and Oyster Creek, halfway between Gladstone and Bundaberg, remained under evacuation orders.
Firefighters were brought in from interstate to deal with the crisis, which was far from over, with
hot conditions expected to continue for days.
Queensland Fire and Emergency Services Commissioner Katarina Carroll said people must not try to return to their homes until they were told that it was safe to do so.
'Do not be complacent, we are not through this yet,' she said.