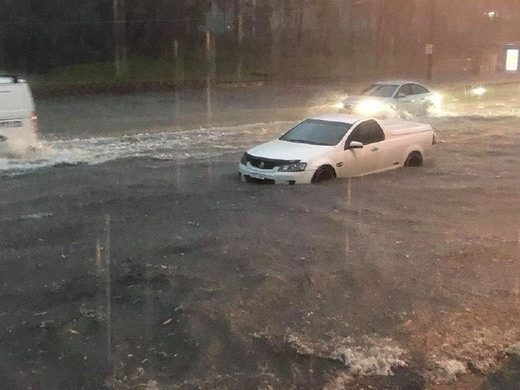 Heavy wind and rain have cancelled flights, deluged roads and left thousands without power in Australia's biggest city.
A motorist has died and flights have been cancelled as a month's worth of rain fell on Sydney on Wednesday morning.
Severe thunderstorms and heavy rainfall have lashed Australia's biggest city, deluging railway stations and leaving more than eight thousand people without power.
There was chaos on Sydney's roads as the storm struck only hours before the city's morning rush hour.
Several stranded motorists were plucked from rising floodwaters.
Two police officers were seriously injured when a tree fell on them as they assisted a stranded driver.
Police called on motorists to stay off the roads due to the "horrendous weather".
New South Wales state Assistant Police Commissioner Michael Corboy said: "We are asking all road users to reconsider the need to be on the roads throughout what will be a severe rain event today."
Australia's Bureau of Meteorology (BOM) said
Sydney received more than 10cm of rain within a few hours, with the city usually experiencing an average of 8.4cm for the whole of November.
The rains have offered a welcomed respite to farmers who have suffered through a sustained drought in recent months, but the weather caused major disruptions to the Sydney's infrastructure.
The city's airport, the country's busiest, said it cancelled at least 20 flights after closing two of its three runways.
Cait Kyann, a spokeswoman from Sydney Airport, said: "The storm is pretty intense in and around the airport.
"We are operating from a single runway so that means that there are delays and likely some flights will be cancelled."
Ausgrid, the nation's biggest electricity network, said the storm had left 8,100 customers without power around Sydney and the Central Coast area to its north.
The BOM said the storms would last through most of the day before easing, with gale force winds whipping up four metre waves which were expected to pound Sydney's beaches.
The weather is in stark contrast to soaring temperatures nearing 40C in Queensland.
Strong winds in the northern state have exacerbated major bushfires.
Firefighters have been battling for nearly a week to contain more than 80 fires across Queensland.