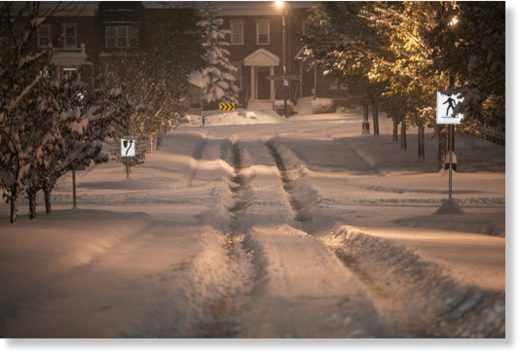 Record breaking snowfall, record setting low temperatures, -50 wind chills,
impossible driving conditions amid freezing rain and ice.
Sounds like the heart of the winter season doesn't it?
In reality, ALL of these harsh winter conditions have plagued different parts of the country
this fall,
leaving little to no areas untouched.
Will this be a sign of what's to come this winter or will Mother Nature start to loosen its frosty grip? More on what's happened (
keep in mind we had to limit this to just a few main events because the wintry scenes have been endless
) and what lies ahead this winter, below.
NORTHERN MANITOBA COLDER NOW THAN TORONTO HAS EVER BEEN
It's currently a tale of two seasons across the Prairies as milder Pacific air and Chinook winds send temperatures soaring to the mid-teens once again in parts of Alberta. That's all while extreme cold warnings cover areas of northern Manitoba where wind chill values are making things feel closer to the -40s.
In fact, Thompson, Manitoba recorded a core morning temperature of
-35°C on Monday,
beating out any cold temperatures the city of Toronto has EVER set in hits history.
"The coldest temperature Toronto has ever had was -32.8°C in 1859," says Weather Network meteorologist Chris Murphy. "That means it's been colder in Thompson, Manitoba this fall than it ever gets in Toronto during the winter."
And although Alberta is currently on the "better" side of that storm track, let's not forget the
record setting snowfall that walloped southern regions in early October
.
Calgary ground to a halt after 40 cm of snow hammered the city,
prompting appeals to neighbouring cities for additional snow removal equipment.
FEELING LIKE -50: TOO MUCH TOO SOON EVEN BY THE EXTREME NORTH'S STANDARDS
A November chill is by no means rare across parts of our far north,
but a recent six consecutive days of record low temperatures with wind chills in the minus FIFTIES does seem a bit extreme.
A wind chill of -52 was recorded on November 18 and 19 in Chesterfield Inlet, Nunavut with a new record low temperature of -35.4°C also set on November 18.
That beat out the previous record of -30°C set in 1996.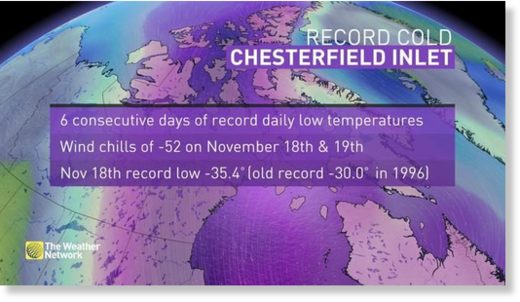 A WHOPPING 160+CM OF SNOW (DID WE MENTION THIS IS NOVEMBER?)
Probably the most impressive scenes of winter we've seen this fall land in eastern Canada where endless systems have completely buried the region. Get ready for this. Since the start of September,
Happy Valley-Goose Bay, Labrador has recorded a whopping 162 cm of snow
with a record-setting October snowfall helping to give these numbers a healthy boost.
The town picked up nearly 85 cm in October alone, smashing previous October records,
which all sat around 60 cm, in the years of 1999, 1996, 1962 and 1944.