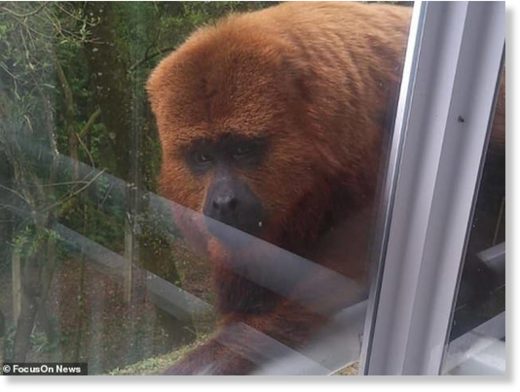 Julia Balardim's mum Luciana desperately tried to wrench the animal off her 21-month-old daughter after hearing her screams.
She saved her from the wild animal's jaws, but the child has had to undergo emergency plastic surgery to reconstruct part of her forehead after suffering a horrific bite.
The monkey bit down into her skull, exposing the bone underneath, Julia's dad says.
And relatives believe little Julia would have been killed if her mother hadn't reacted so quickly.
The tot was watching television in the lounge with her older sister, Luisa, aged seven, last Wednesday when the howler monkey pulled open the balcony door and entered their ground floor flat in Curitiba, in the southern state of Parana, Brazil.
Luciana, 27, had just gone into the kitchen to get some snacks but rushed back when she heard their screams.
The baby was in her high chair when the primate leapt on top of her overturning the seat sending them crashing to the ground.
The desperate mum struggled to wrench the ape off her younger daughter as it fought back inflicting deep scratches on her arm that needed stitches.
Husband, Fernando, 29, said "My wife fought with all her strength to get the monkey off but he wouldn't let go and got back on top of her.
"She then grabbed hold of the creature by the fur and pulled him off. His claws scratched into her before she was able to throw him out of the window and slam the balcony doors so he couldn't get back in.
"The monkey left two deep wounds at the top of our daughter's head.
"It bit down into her skull exposing the bone underneath and left another deep scratch in her face.
"If (Luciana) hadn't acted quickly, the monkey could have killed our child," said the traumatised dad.
Next door neighbour Rosi Raqsa who called the ambulance said: "The screams of terror from the family were horrendous. The mum and her daughter were covered in blood with the baby's head cut open. I realised what had happened when I saw the monkey running away."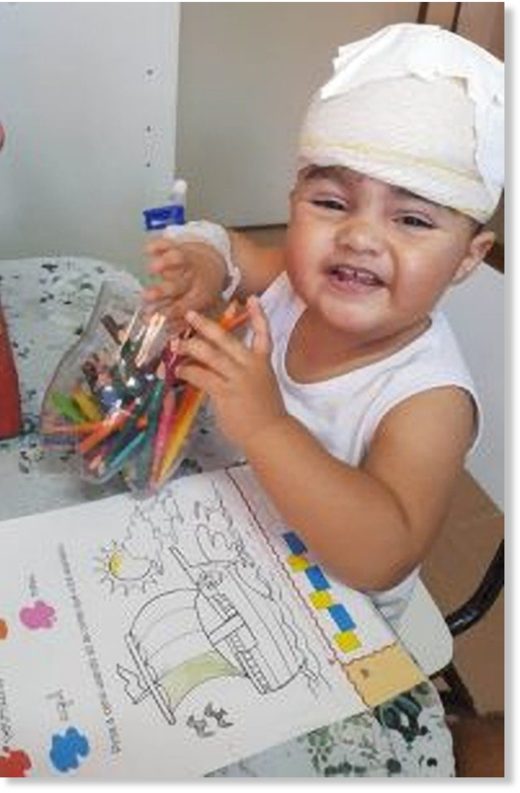 The condominium is located next to a tropical forest. Residents said the powerful ape appeared two months ago and many had been worried about a possible attack.
Video released on Friday, after the near-fatal attack, shows the primate returning to the scene.
It circles the area, brazenly climbing along a balcony and uses its strong prehensile tail to support its body weight as it hangs from the railings. It's filmed trying to break into an apartment by prising apart protective screens and forcing open patio windows.
Julia Balardim's mum Luciana desperately tried to wrench the animal off her 21-month-old daughter after hearing her screams.