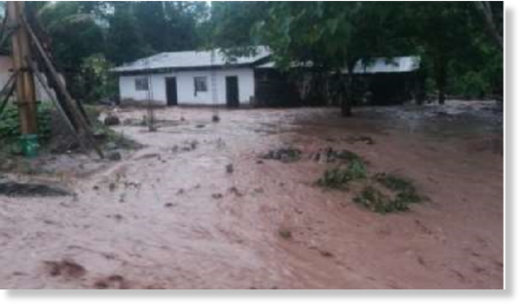 Peru's National Emergency Operations Center (COEN) has reported heavy that rain has caused flooding and landslides in the regions of San Martín, Huánuco and Cusco.
San Martín
Several small rivers have broken their banks in San Martín Region and authorities have warned that the Huallaga river is rising and currently at yellow (second) level alert.
Andina news agency reports that one person died in Nuevo Progreso district, Tocache Province, when the Pacota river broke its banks on 13 November.
Another small river, the Pacora, broke its banks in Pólvora, Tocache Province, damaging over 50 homes with around 28 left uninhabitable. Almost 100 people have been displaced.
Likewise the Yuracyacu River broke its banks in San Fernando district, flooding 13 homes and 50 hectares of farmland on 12 November.
National Meteorology and Hydrology Service of Peru (Senamhi) said that levels of the Huallaga river are rising and close to orange alert (dangerous hydrological event). Flooding could occur in Picota, Tingo de Saposoa, San Cristóbal, San Hilarión, Puerto Rico, Pachiza, Bellavista, Juanjuí and Shimbillo.
Huánuco
Flooding and landslides also occurred in the municipality of Pillco Marca district in Huánuco on 12 November, 2018.
The National Institute of Civil Defense (Indeci) reported that 64 houses were damaged, with 14 of them uninhabitable and 2 totally destroyed. The flooding affected 260 people and displaced over 60.
Cusco
Heavy rainfall caused the overflow of the Torrechayoc stream and later a landslide in the district of Challabamba, in the Cusco region early on 12 November. At least 30 families were affected and affected and 13 homes damaged.
Social Media
#LluviasIntensas causan #huayco en Unuraquina, Paucartambo - Cusco.
Municipalidad Distrital de Challabamba apoya con maquinaria pesada para trabajos de limpieza. Familias damnificadas han sido trasladadas a casas de familiares. Autoridades realizan la evaluación de daños. pic.twitter.com/B6dRCrSrBD

— INDECI (@indeciperu) November 12, 2018