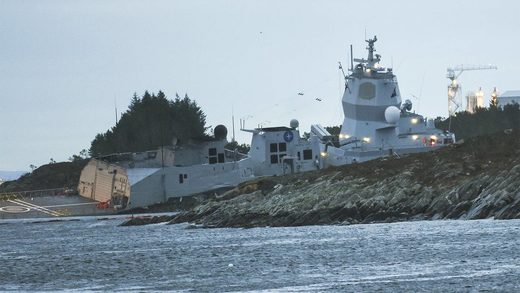 We still don't know many details surrounding what appears to be a particularly desperate incident that occurred near Bergen, Norway overnight, but in this case, a picture is worth a thousand words. The Aegis combat system equipped Norwegian frigate
Helge Ingstad
had a collision with the
oil tanker Sola
and suffered significant damage. According to reports and the photo in the embedded tweet below, the damage was so bad that the captain ordered the ship's crew to run the vessel aground near the entry to a fjord to keep it from sinking.
The photo shows the vessel grounded and listing badly with its stern sitting very low in the water and a giant gash running down the starboard side of its hull.
Helge Ingstad
had been participating in the massive
Trident Juncture wargames
taking place primarily off the coast of Norway. Some accounts state it the frigate was returning to port when the incident occurred.
At this time we have no information as to how many sailors were injured or worse as a result of the accident and we still don't know the status of the oil tanker aside from the fact that its
transponder shows it
sitting idle across from where the grounding occurred. The Malta flagged tanker is a monster at roughly 820 feet in length.
The 440 foot long
Helge Ingstad
displaces 5,290 tons and is one of five in the
Fridtjof Nansen
class that serve with the Royal Norwegian Navy. They are considered the most advanced combat vessels in the service's inventory and are equipped with an eight-cell Mk41 vertical launch system (VLS) that can hold up to 32
RIM-162 Evolved Sea Sparrow Missiles
(ESSMs), eight
Naval Strike Missiles
in their own launchers, four torpedo tubes armed with Stingray torpedoes, a 76mm deck gun, as well as other smaller caliber weapons. An NH-90 helicopter is also commonly embarked. These ships were designed with expansion in mind and have space for multiple types of additional armaments, like another eight cell Mk41 VLS.
Regardless of the ship's combat capabilities, something went horrifically wrong here, but sadly these types of collisions have become all
too familiar as of late
. Still, the tough decision to ground the vessel-literally something a commanding officer avoids at all costs-may have saved the ship and many of the lives aboard it.