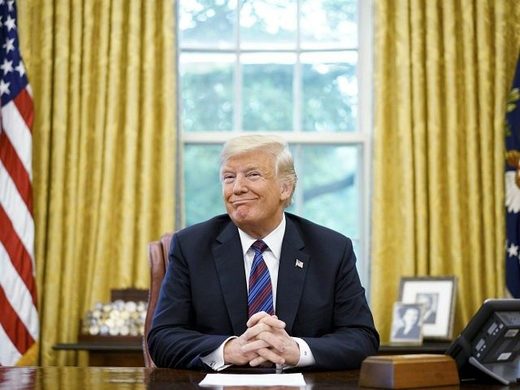 President Donald Trump said Monday, on the eve of the 2018 midterm elections, that he looked forward to a "softer tone" after Tuesday - regardless of who won.
The Sinclair Broadcast Groups's Scott Thurman
asked
Trump if he had any regrets about his first two years in office. Trump replied:
"I would say tone. I would like to have a much softer tone. I feel to a certain extent I have no choice, but maybe I do, and maybe I could have been softer from that standpoint."
Trump's remarks came as he barnstormed the country delivering fiery speeches on behalf of Republican candidates - and more than a week after Democrats blamed his rhetoric on immigration for a mass shooting by an extremist who attacks a Pittsburgh synagogue, ostensibly because a Jewish organization was helping immigrants.
Thurman asked Trump whether his "tough talk" on immigration caused racism. He rejected the idea.
"No, I don't - it's not racism, it's just that people have to come into our country legally, otherwise you don't have a country."
The president also said that he would "love to get along" with Democrats after the election
- though "right now, they're in their mode, and we're in our mode."
He said "a lot of things can happen" if the two parties could find a way to work together.
Lest Trump's remarks be interpreted as anticipating Republican losses in the House on Tuesday, the president said: "I really think we're going to see some good numbers out of the House. Now the Senate, we're looking very good, but I see some surprising numbers out of the House."
The Democrats' leader in the House, Nancy Pelosi,
pledged
a confrontational approach toward the administration in an interview published Monday in HuffPost.
Joel B. Pollak is Senior Editor-at-Large at Breitbart News. He is a winner of the 2018 Robert Novak Journalism Alumni Fellowship. He is also the co-author of How Trump Won: The Inside Story of a Revolution, which is available from Regnery. Follow him on Twitter at @joelpollak.