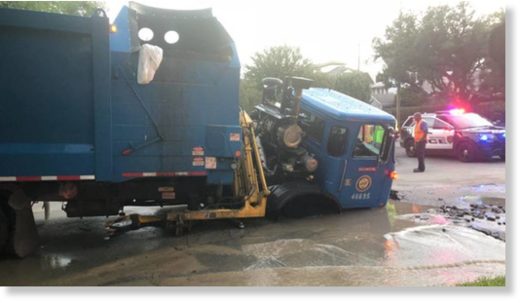 In less than a week, an intersection in Montrose has gone from dry pavement to what resembles a small stream.
"It began to gush in the street last Wednesday," homeowner Daniel Levine said.
The scene at night may look and sound peaceful, but earlier Monday, it made for a potentially dangerous day at work for a City of Houston garbage crew.
Photos show their garbage truck stuck in a sinkhole created by the rushing water at the corner of Mandell and Harold near Westheimer and Dunlavy.
"When I got home, it was still there," Levine said. "Whatever type of tow truck they use just showed up."
Neighbors said since the water began leaking, they've had to deal with low water pressure. Some said they've had no hot water and others said they've had no water at all.
A public works crew was at the scene to block traffic at the intersection. Neighbors said they're hopeful repairs can begin as early as Tuesday.
"We've lived here for 15 years," Levine said. "There have been a couple of leaks; they've always been taken care of quickly.
This is the first time it's lasted long enough that we're, like, 'What's going on?'"
Channel 2 reached out to the Public Works Department with the City of Houston via phone and email but has not yet heard back. Neighbors say they were told by work crews that repairs could begin by Tuesday.