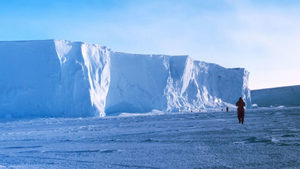 Scientists have heard strange "singing" noises coming out of the ice shelf.
The low-frequency noises - which sound a little like moaning when sped up - could help researchers track the ice shelves as they collapse.
The singing tones come out of the surface of the massive Ross Ice Shelf when the winds blowing across the snow dunes cause it to vibrate. That means they produce the "tones" almost constantly, and now scientists have found they can listen to them.
Doing so could help them spot how the ice shelf is forming from afar, and track the damage that is being done by climate change by tuning into the tones.
Ice shelf collapses can be drastic and sudden. When they do, they can change the flow of water and raise sea levels, making it important to watch for any signs as they occur.
To try and understand how the Ross Ice Shelf is arranged, scientists put 34 very sensitive seismic detectors under its surface. They then monitored its vibrations from late 2014 to early 2017.
When they checked in on that data, they found that the snowy coat that sits on top of the ice shelf appeared to be almost constantly vibrating.
It was then they found that the shaking was caused by the winds travelling across the huge snow dunes and making the snow rumble, like a huge drum.
And they found the pitch changed when weather conditions altered the makeup of the snow. If a storm rearranged the dunes or the air temperature changed, the pitch would be altered at the same time.
"It's kind of like you're blowing a flute, constantly, on the ice shelf," said Julien Chaput, a geophysicist and mathematician at Colorado State University in Fort Collins and lead author of the new study.
And just as a flute makes a different sound depending on the organisation of the holes that air runs through, the sound of the singing ice can be changed by the structure of the ice itself.
"Either you change the velocity of the snow by heating or cooling it, or you change where you blow on the flute, by adding or destroying dunes," he said. "And that's essentially the two forcing effects we can observe."
That should allow scientists to be able to use the hum to check in on the conditions on the ice. That in turn will let them see how ice is responding to its changing climate, for instance, and allow them to trace whether the ice could be formed in ways that suggest it is about to crack up.
"The response of the ice shelf tells us that we can track extremely sensitive details about it," Chaput said. "Basically, what we have on our hands is a tool to monitor the environment, really. And its impact on the ice shelf."