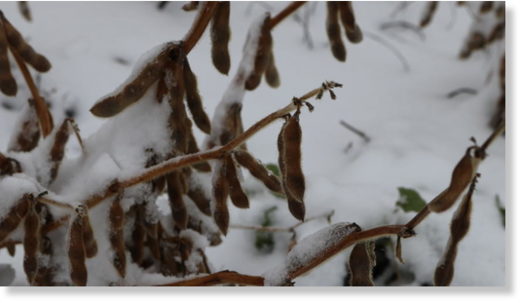 Heavy, wet snow fell across the Dakotas and Minnesota on Wednesday, Oct. 10, further delaying harvest and possibly damaging crops.
"Harvest will be a real challenge," said Brian Bjork of Forman, N.D.
Even before the snow started falling,
harvest already had been delayed by days of wet weather.
But with some places reporting more than a foot of snow, it could be weeks until combines roll through the fields again.
Bjork had at least 8 inches of wet snow on his soybeans. He opened up his first field Sept. 28, and most of the low areas were still green. It's been wet ever since, he said.
"I've only combined one hopper full, about 180 bushels," he said. "I have 1,099 acres of soybeans this year and have only harvested four or five of those acres. It won't be a fun harvest."
Randy Grueneich, North Dakota State University Extension agent for Barnes County,
said he heard a report of 13.1 inches in the Valley City, N.D., area
. He hadn't heard any reports of cobs or stalks of corn breaking, but the condition of soybeans remains the dominant concern.
"We won't know until the snow melts," he said.
The county grows soybeans on six of every 10 acres, Grueneich said, and this year's crop looked to be at least near a record, with reports of yields in the 40s, 50s and 60s bushels per acre. Farmers are wondering, with the tall, full bushes, if some branches are going to be touching the ground. Grueneich said there is an assumption that there will be a loss of yield
and worries that some acres won't be able to be harvested.
Most of the soybeans were still green until frost, and the wet weather began after the frost, Grueneich said. Consequently,
few acres of soybeans have been combined in Barnes County.
"There's a lot of anxiety right now," he said.
Even in areas that didn't get as much snow, harvest still is on hold.
Roger Holznagel works in agronomy and sales at Missouri Valley Ag Inc., in Sterling, N.D. On Oct. 10, snowflakes were flying outside his office, but unlike 30 miles to the east, nothing was sticking.
Even still, he had measured about an inch of precipitation in the past few days, and farmers in the area "wish it was drier," he said. "It's really hampered the harvest so far."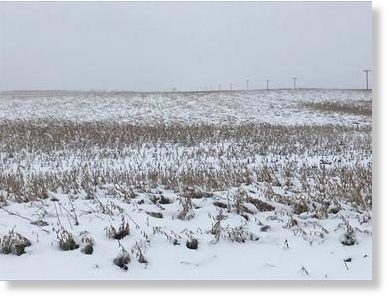 Holznagel estimated it could be a week or two until farmers are back at combining soybeans. In some areas, corn harvest could resume in a few days if conditions dry up, he said.
The recent wet weather, though, has been widespread and put a stop to harvest for most farmers in the area.
"Sunflowers, whether it rains or not, the birds are harvesting what they want," Holznagel said.
He said the flowers "look really good," though he worries that snow in some areas "could put them on the ground."
"They could have some catastrophic losses with that," he said.
Soybean losses in Barnes County also could be catastrophic, Grueneich said.
With the current market conditions, farmers were planning to put up storage facilities so that they could have the potential of selling when the elevators start buying again. The expected yields would mean farmers could make money even at the depressed prices. A crop insurance check if the soybeans were destroyed by the snow would not be anywhere near equivalent, Grueneich said.
Farmers, however, are still hopeful, Grueneich said. The "light at the end of the tunnel" is that the long-term forecast appears to be more positive for harvesting.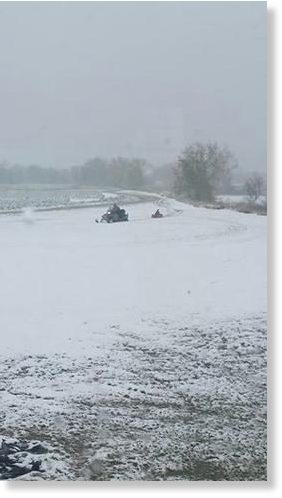 "It's kind of one of those things where the hardest part is the waiting," he said.
"There's still a lot of harvest left," Holznagel said. "Crops here are actually looking really good. It's just the moisture for harvest is not quite as welcome this year as it could be if they weren't combining."
Jen Peterson-Ross of Crookston, Minn., said her farm has sugar beets and soybeans still in the field. They have harvested "some, but definitely not enough," she said.
She took an unusual photo on Oct. 10. Instead of beet diggers and trucks in the field, there was a snowmobile pulling a sled. Even with the difficult conditions, she's hopeful they'll get back in the field soon.
"Looks like the sun may appear next week. We'll cross our fingers," Peterson-Ross said.