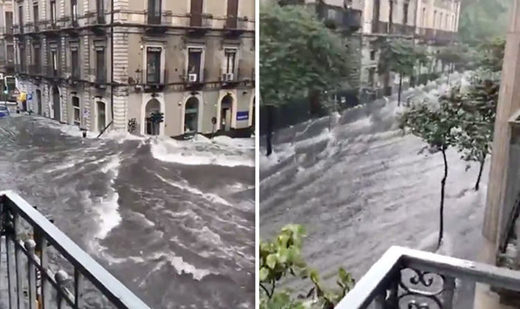 The video appeared on social media showing a motorist driving through an extremely flooded motorway near Crotone, Calabria.
The south-western
Italian
region was
hit by severe and relentless rain showers overnight causing substantial damage to roads, shops and houses.
The severe weather hit most of the southern Italian regions, including the islands Sicily and Sardinia and south-eastern region of Puglia.
A mother and her son were found dead by the bed of a stream in Lamezia Terme after her husband declared them and their other son missing last night.
In Catania, Sicily, roads turned into rivers lifting the asphalt and flooding houses and shops.
A bridge near the province of Catanzaro, Calabria, collapsed as a result of the extreme conditions.
Schools in Taranto, Puglia, have been shut on Friday and emergency services have issued and orange weather warning for the whole golf between Calabria and Puglia.
Emergency services were called for assistance 70 times overnight and 50 more interventions are on the way in the aftermath of the extreme overnight weather.
According to SevereWeather.eu
extreme threat warnings for flash flooding in southern Italy are in place until October 6.
Churning in the skies above Italy is a V-shaped mesoscale convective system (MCS) causing intense storms and torrential rainfall onto the Calabria and Puglia regions.
A MCS is a complex of thunderstorms that becomes organised on a scale larger than the individual thunderstorms but smaller than extratropical cyclones, and normally lasts for several hours or more.
Weather models show excessive rainfall accumulations across the region, beginning on Wednesday October 3, and lasting until Saturday evening, October 6.
Forecasters have predicted that some areas could see more than 10 inches of rain lasting until late Saturday.