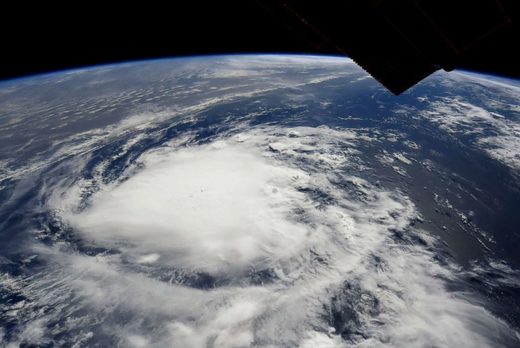 South Carolina Gov. Henry McMaster sounds the alarm as Hurricane Florence churns toward the coast.
Up and down the Carolinas, residents are rushing to ready emergency kits, map out escape routes and secure their homes in preparation for the onslaught of rain and wind the rapidly intensifying Hurricane Florence is expected to bring later this week.
The National Hurricane Center said the Category 2 storm continues to gain strength over the Atlantic, about 625 miles southeast of Bermuda - with top winds reaching 85 mph.
Drawing energy from the warm water, Florence could be a fearsome Category 4 with winds of 130 mph or more by Tuesday, and is expected to remain an extremely dangerous major hurricane through Thursday.
"Somebody is going to suffer devastating damage if this storm continues as it is currently forecast," Dan Miller, a meteorologist with the National Weather Service in Columbia, told
The State
newspaper.
Some forecasting models show Florence could unload a foot or two of rain in places, causing devastating inland flooding. Forecasters also warned of life-threatening storm surge, along with damaging winds.
"While it is too soon to determine the exact timing, location and magnitude of these impacts, interest at the coast and inland from South Carolina into the mid-Atlantic region should closely monitor the progress of Florence, be sure they have their hurricane plan in place and follow any advice given by local officials," the Miami-based National Hurricane Center said in its 5 a.m. advisory.
The governors of North and South Carolina and Virginia declared states of emergency far ahead of landfall.
Navy ships off Virginia's coast are getting set to sail out of the path of the powerful hurricane, while the University of North Carolina at Wilmington has canceled classes and an upcoming alumni weekend, encouraging students to leave campus for a safer location.
Florence has also appeared to take aim for the largest U.S. Marines Corps base in the East Coast.
Camp Lejeune has an extensive beachfront about 50 miles (80 kilometers) northeast of Wilmington, North Carolina, and it's well within the National Hurricane Center's forecast "cone."
Camp Lejeune said in a statement that it's urging personnel to prepare now, and will open shelters on the base if necessary.
Officials warn Florence could slow or stall on or near shore, potentially causing devastating inland flooding.
"Pretend, assume, presume that a major hurricane is going to hit right smack dab in the middle of South Carolina and is going to go way inshore," South Carolina Gov. Henry McMaster said. The state's emergency management agency said it is "preparing for the possibility of a large-scale disaster."
In coastal Charleston, city officials offered sandbags to residents. Myrtle Beach Mayor Brenda Bethune urged people to secure their homes but said it was too early to know if evacuations will be ordered.
"Literally, they are filling buggies full of water, shopping carts full of water," Ryan Deeck, grocery department manager at a Walmart, told
The Sun News
. "They're coming in and buying water and plates, and that's about all they're buying."