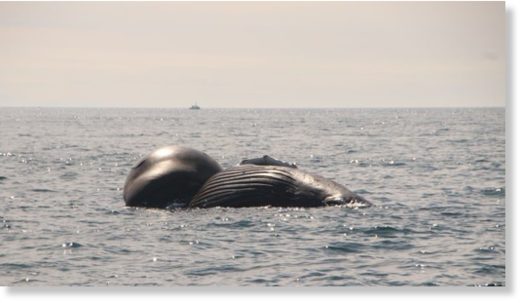 A dead humpback whale was found off the coast of Brier Island, N.S., in the Bay of Fundy on Friday.
The breeding female whale, Peajack, was well-known to locals and was identified by Brier Island Whale and Seabird Cruises, said the Marine Animal Response Society.
MARS did not confirm the cause of the whale's death.
The chief naturalist with the whale cruise company, Shelley Lonergan, said she has been seeing Peajack in the area since 1995.
Peajack had had two calves since then, Lonergan said.
"It's kinda tough, because you do get kind of attached to them. You feel connected with them. Especially with Peajack. She was a whale who was very curious. So she would approach the boat and she'd have a look at people," said Lonergan.
"So she became kind of special to everyone in the whale watching community."
The whale was still in the water on Friday night, MARS said in a Facebook post.
The group is asking people to keep an eye out for it and report its location, if observed, as the animal's location may move with the tides.
MARS advised not to approach the carcass when it's floating or if it lands on a beach, as it may roll unpredictably in the waves or carry diseases.
Species of 'special concern'
Humpback whales are classified as species of special concern under the Canadian Species at Risk Act.
Along with the threats posed by ship strikes and fishing gear entanglement, Lonergan said that the whales are also at risk of starvation, which she said may be connected to herring fishing.
"We're seeing a lot of skinny whales. It's scary. This time of year they should be nice and fat," she said.
"These whales, there's just so much against them. When you see a dead humpback on the Bay of Fundy, it just hits home that these whales are in trouble. Every species of whale."
Protection measures for right whales working, DFO says
17 North Atlantic right whales died last year, 12 of them in Canadian waters.
With concerns the species was headed towards extinction, the federal government introduced protection measures, including boat speed restrictions, increased surveillance and a series of closures of fishing areas where right whales were spotted.
The closures affected fishermen who harvest lobster, crab, groundfish, herring and mackerel, with fixed-fishing gear that can entangle whales.
Earlier today, officials with the Department of Fisheries and Oceans said those measures to protect the species worked.
The department said no right whales died from ship strikes or fishing gear entanglement in Canadian waters this year.