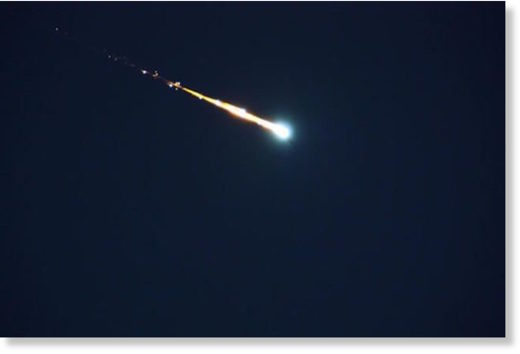 People across the East Coast reported seeing a "fireball" in the night sky just about midnight, according to the American Meteor Society.
The society has not confirmed if a fireball did fly overhead, but 88 reports were logged, 16 of which came from people in Massachusetts. Reports came from as far south as Florida and as far north as New Hampshire, with reported sightings in nine additional states in between, the society said.
A fireball is another term for a very bright meteor, according to the society. Several thousand fireballs occur in the planet's atmosphere every day, but most are over oceans or uninhabited regions, or are masked by daylight, experts say.
"Additionally, the brighter the fireball, the more rare is the event," the society website reads.
The reports, which all came in just before or after 12 a.m., overnight Wednesday into Thursday morning, described a large, bright ball that streaked across the sky for one to three seconds. One report, from a man in Northborough, described seeing a range of colors in the fireball, including purple, blue, green, orange, yellow and white.
Another report, this one from Leominster, described the fireball as "absolutely incredible."
"It was a giant bright flash of green that exploded downwards towards the horizon," wrote the respondent. Another person, Jennifer from Fall River, said it "looked like actual lava in the sky."
A woman named Ruby in North Attleborough described the sight as "the most incredible thing I've ever seen in my life."
"When it happened, I literally saw a giant ball of light, bright blue and maybe some red (it was gone in an instant), and I swear the sky lit up so bright that my boyfriend's friend who didn't see the ball itself said 'what just happened? Did we just get attacked?'" Ruby wrote.
"Luckily my boyfriend witnessed it as well, or else I don't know if I'd be able to get anyone to believe me!" she added.
The most recent fireball confirmed by the society flew over Missouri at 8:40 p.m. Monday. More than 500 reports of that event came from eight states.