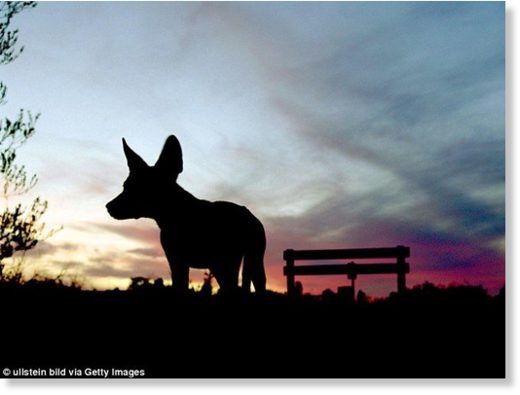 Farmers have been warned their livestock is being attacked by feral pigs, wild boars, foxes and dingoes as the wild animals are starved by the drought.
Central Tablelands Local Land Services (CTLLS) in is offering services for farmers in and around the NSW towns of Oberon, Mudgee and Cowra to tackle the predators as spring begins.
Senior biosecurity officer Alistair Gordon-Smith said it's important that farmers start planning their bait before the mating season kicks off.
'It's been a dry, hard winter and feral pigs and wild dogs are looking for food for spring litters of piglets and pups,' he said.
'Newborn calves and lambs are extremely vulnerable to pest predators, so it's timely for landholders to start planning their baiting regime now.'
Charges for the service have also been dropped to assist all farmers with accessing bait-handling certification.
It's recommended that farmers work with their neighbours to effectively tackle 'pest animals like feral pigs and wild dogs'.
CTLLS manager of biosecurity and emergency services Clare Hamilton told the Central West Daily that the drought has made the animals hungrier.
'Food is more scarce...people are lambing at the moment, foxes are about and lambs are an easy target,' she said.
'They've never been this hungry.'

The move comes as all of NSW has been declared drought affected.
The Bureau of Meteorology announced the odds of an El Niño system forming this year are now twice as high as normal.
El Niño events often result in severe droughts, bringing higher temperatures, lower than average rainfall and increased risk of bushfires, with the phenomenon lasting as long as two years.
If an El Niño does form in the latter half of 2018, it could prove catastrophic for parched Australian farmers.