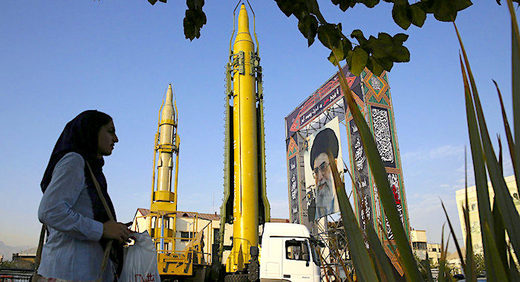 The report comes amid increasing tensions between Tehran and Washington that started after the latter abandoned the Iran nuclear deal and re-imposed economic sanctions against the Islamic Republic. The US insists that a new deal, hindering Iran's nuclear and ballistic missile programs must be reached.
Tehran has been supplying its Shi'ite allies in Iraq with short-range ballistic missiles and means of their production over the last several months,
Reuters reported on August 31, citing anonymous sources among Iranian officials, Iraqi and western intelligence. According to the media outlet,
the reason behind the move was to build up its deterrence capacity in the event of an attack.
"The logic was to have a backup plan if Iran was attacked. The number of missiles is not high, just a couple of dozen, but it can be increased if necessary," an anonymous senior Iranian official said.
One anonymous western source, interviewed by Reuters, said that the alleged arming was a warning to the US and Israel after the latter carried out airstrikes on purported locations of Iranian troops in Syria. Iraqi and Iranian sources said that the decision was made 18 months ago, but the process ramped up only recently.
According to the report,
Iraqi allies of Iran have been trained to produce and launch ballistic missiles.
At least two factories, one in al-Zafaraniya and one in Iraqi Kurdistan, were reportedly used for that purpose. According to one of the anonymous Iraqi intelligence sources, Baghdad was aware of the supplies of Iranian missiles to Iraqi militants, who used them to fight Daesh.
Neither the Iraqi military, nor the government has commented on the report. The CIA and Pentagon have also remained silent. Iranian officials also declined to comment on the report.
A spokesman for Iran's mission to the UN, in response to a
Wall Street Journal
article containing allegations of Iran arming various groups fighting against the US during the Iraq War, said that Tehran was only helping Iraqis "for the purposes of self-defense" against Daesh.
Relations between Israel and Iran have always been strained as the latter doesn't recognize Israel's right to exist as a state.
Tel Aviv, for its part, has accused Iran of allegedly sending its troops and proxies to Syria in order to attack Israel and even carried out air raids on the alleged positions of these groups in the Arab Republic. Tehran has denied these claims and strongly condemned the Israeli airstrikes.
Tehran and Washington's relations, always rather strained, also worsened after US President Donald Trump withdrew the country from the Iran nuclear deal. Under the deal, also known as the JCPOA, Tehran agreed to maintain the peaceful nature of its nuclear program in exchange for a gradual lifting of sanctions. The US has promised to impose the harshest sanctions against Iran until it agrees to review the previous agreement and conclude a new one.