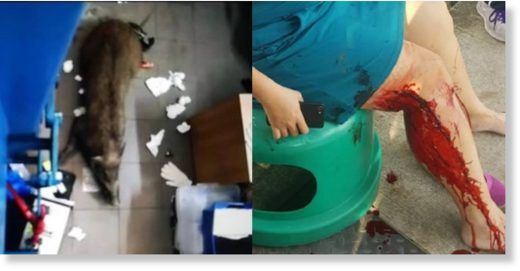 Punggol Secondary School principal Benedict Keh urged students and staff today to remain vigilant and alert to their surroundings, after a school administrative employee was attacked by a wild boar outside the school yesterday.
The school staff was injured after a boar attacked her and fled into the rubbish collection point of a nearby executive condominium. The animal was left stranded at the rubbish collection point until officers from the Animal Concerns Research and Education Society (ACRES) arrived and sedated the boar before moving it elsewhere.
The incident occurred yesterday evening, along 51 Edgefield Plains, according to the Singapore Civil Defense Force.
This latest attack comes after increased sightings of wild boars near residential estates have been reported in recent months.
Last October, a man was attacked and injured by a wild boar near a Hillview Road bus stop. A month after that, a wild boar charged towards members of the public at Punggol West Flyover, causing police officers to fire tasers at the animal.
Meanwhile, Principal Keh revealed that the injured school staff is presently receiving treatment at the hospital. He added:
"We will render her continued assistance, including giving her the time to recover from her wounds. We have reminded our staff and students to be vigilant and watchful of their surroundings. As an added precaution, we are working with the relevant authorities to ensure the safety of our staff and students."
ACRES believes that the wild boar most likely came from Lorong Halus. The organisation's deputy chief executive, Kalai Vanan, told reporters yesterday:
"Development works in that area could have caused this individual to venture out and subsequently finding itself lost in the urban area. Feeding by people may have had a part to play as well to cause the animal to venture out as well."