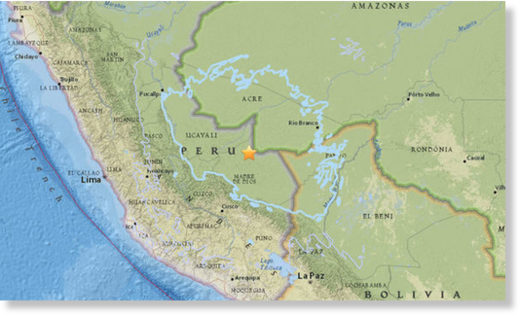 Peru has been rocked by a major 7.1 magnitude earthquake close to the border with Brazil and Bolivia, the US Geographical Survey (USGS) said.
The massive quake struck 248km north-west of Puerto Maldonado, a city in south-eastern Peru, at 4:04am local time (10am BST).
Its epicentre was at a depth of 610km (379 miles), according to the USGS,
with the city of Pucallpa hit by two violent shakes.
The quake was also felt in northern Chile and the Colombian city of Medellin, but authorities said there was no tsunami risk.
There are currently no reports of damage or casualties.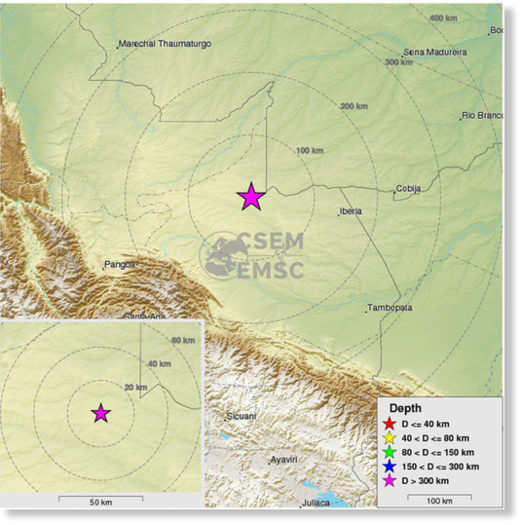 Earthquakes are common in Peru because the country lies between the boundary of the Nazca and South American tectonic plates.
But they can prove devastating because many homes are built with precarious materials which are unable to withstand the tremors.
Chile's Foreign Minister Roberto Ampuero tweeted: "We have received information there was a strong 7.1 earthquake in southern Peru.
"We convey to our Peruvian brothers our solidarity and willingness to cooperate if that is required. A hug to Peru."
Chile's fire service said on Twitter that the quake did not have the potential to generate a tsunami off the Chilean coast.
In January, another 7.1 magnitude earthquake hit Peru's southern coast, killing a 55-year-old man in the town of Yauca.
At least 74 people were killed in 2001 when a deadly 8.1 magnitude earthquake jolted southern Peru, triggering a tsunami.