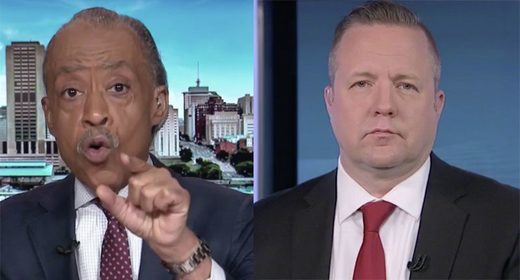 Sunday on MSNBC's "PoliticsNation," Republican U.S. Senate candidate in Virginia Corey Stewart got into a heated debate with the host.
Sharpton asked, "Do you consider yourself a candidate - the candidate for white nationalists in the state of Virginia?"
Stewart replied,
"No, of course not, Reverend, and here's the thing. I know you brought me on your show because you want to talk about the one-year anniversary of the horrible events in Charlottesville last year.
But, you know, I meet with voters every single day, the residents of Virginia, and there's one thing that is very, very clear
and that is people are sick and tired of talking about race all the time, they're tired of it, they want to move on, the people of Charlottesville want to move on, the people of Virginia want to move on, they have a lot more important issues to talk about than race on a constant basis, which is what we get out of you and the rest of the media on a daily basis."
After playing a video of Stewart giving a speech about the Confederacy, the exchange got heated when Stewart said, "You know, why is it that you on the left are so obsessed with what happened 150 years ago, you know my, I'm running for United States-"
Sharpton interjected, "No, no, I'm talking about you last year, I'm not talking about-"
Stewart said, "You have me on your show so I can I speak I presume, right?"
Sharpton said, "Explain to me your statement in light of what you're saying now."
Stewart said, "Reverend, let me just explain this. People don't care what happened 150 years ago. Historians love this stuff, and I love history, but the end of the day, we need to look at what the problems are today. You mentioned that it was only people of a certain race who were facing these challenges, with their education, their health care, their jobs, everything else.
That's just simply not true. There are Americans of every single race, of every single religion of every single ethnicity that are struggling with the same things. As long as we continue to divide Americans by race- and you've made a career out of dividing people by race, you've been a race hustler your entire career. You've made a lot of money at it,
you haven't even bothered to pay your taxes,
and all you do is divide Americans by race."
Sharpton said, "I'm not going for the bait."
Sharpton added, "I know your temptation, attack Al Sharpton, and you came on his show, you beat up Al Sharpton, you get your base up, I got that."
It starts at 19:25: