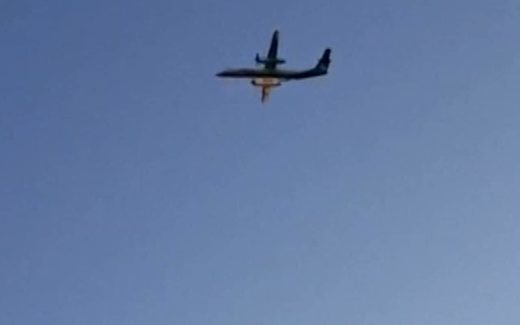 Two F-15 fighter jets were scrambled on Friday evening after the unauthorised take-off of an aircraft from a Seattle airport prompted a major security alert.
There were no passengers on board when it crashed about 30 miles later, according to local police, who said they knew the identity of the 29-year-old mechanic at the controls and believed him to be suicidal.
Flights were halted in and out of Seattle-Tacoma International Airport. Passengers on airliners took to social media to relay messages from air crew as they were told their flights would not be taking off.
A Horizon Air Bombardier Dash 8 Q400, reported to be hijacked, flies over Fircrest, Washington, the U.S., before crashing in the South Puget Sound, August 10, 2018 in this still image taken from a video obtained from social media
Alaska Air said a Q400 twin-engined plane, operated by its subsidiary Horizon, was involved.
The unauthorised pilot could be earlier heard talking to air traffic control
,
in communications relayed on aviation websites, reporting that he believed one of his engines had failed.
In response, he was told to stay low and over water.
Witnesses described seeing the plane nose dive shortly after the F15s arrived in the vicinity.
News crews following the story said they had spotted smoke coming from an island in southern
Puget Sound
just off the shoreline of Seattle.
Law enforcement officers then tweeted that the plane had crashed and that they believed the pilot was suicidal.
The US Coast Guard was sending a 45-foot vessel to the crash scene after witnesses reported seeing a large plume of smoke in the air, according to Petty Officer Ali Flockerzi.
Some flights resumed at the airport later in the evening, although west-bound departures remained on the ground.
John Waldron, who took dramatic video of the stolen plane flying in a loop, told CNN he was out for an evening stroll when he saw the two jet fighters following the turboprop airplane.
His first thought was that they were practicing for an air show. "So, I started to capture video, just because I thought it was, kind of bizarre," he told CNN.
Waldron said it seemed that the jets were chasing down the airplane. "I thought this is really odd. Kept the video rolling."
Then the passenger plane pilot "did a complete loop ... I couldn't believe he recovered".
He estimates the plane at its lowest point "was no less than 100 feet (30.5 meters) above the water".
The pilot "pulled - pretty much straight up. And kind of at an angle. And almost stalled the aircraft. Somehow he got it leveled back off. And then made his way down toward the island".
Waldron said that he was prepared to "run and take cover." He briefly turned away, then turned back and saw the explosion as the plane crashed.
"Saw a bright, pinpoint area of flame. And the smoke. I thought, oh, my god. I think he just crashed."