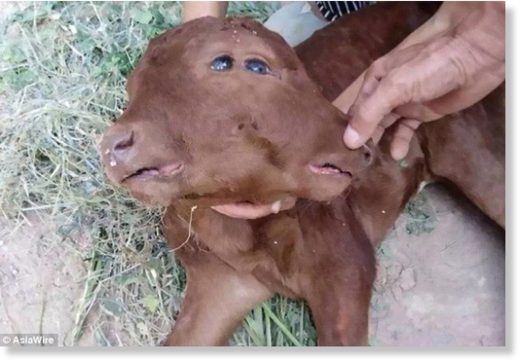 A strange calf born with two heads has shocked villagers in north-west China.
Video footage of the mutant cow in a village in Xianyang city, Shaanxi province, shows it with two large heads, two ears, two mouths and four eyes.
The baby animal was seen sprawled on the ground helplessly as it was unable to stand up on its own.
After the unusual birth last Thursday, owner Feng Wenhong shared images of the animal, which is said to be affected by some sort of genetic mutation while still inside its mother's uterus.
The six-year-old mother survived the difficult birth and previously produced four healthy calves, according to local reports.
'All the other calves were normal. They brought our family about 6,000 yuan to 7,000 yuan (£680 to £790) in income,' she said.
'I didn't notice the heads at first. I thought the calf's head was just bigger than usual, but as I walked closer I realised it had two heads,' she said, adding that both heads of the calf had the sucking reflex.
'It can drink from both mouths and seems to be in good health, but the poor thing can't stand up,' Ms Feng said.
The two-headed calf is the latest reported case in a worrying pattern of mutant animals being born.
Environmental activists have credited to the use of pesticides in the genetically modified feed given to the animals instead of their natural diet.
Animals with similar conditions do not tend to live long, experts noted.