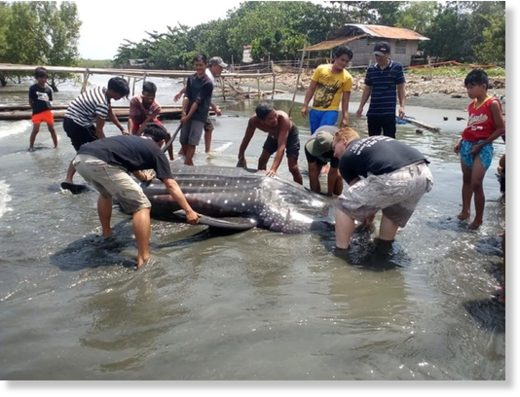 Experts are investigating the death of a whale shark that was spotted at the shoreline in Barangay Cabugan, Tagum City, Davao del Norte Tuesday dawn.
In his Facebook post, Darrell Blatchley, owner of D' Bone Museum in Davao City, captured a photo of a dead whale while rested on the shoreline after it was washed ashore.
Blatchley told
SunStar
Davao that it was found lifeless around 5 a.m. on August 7.
The whale shark measures 14 feet or 4.3 meters.
Blatchley said they will conduct a necropsy, a surgical examination of the dead animal, to learn its cause of death.
He added that remains will be brought to the museum.
This is not the first time a large sea creature washed ashore. Davao Gulf had its fair share when it comes to this.
In 2016, a juvenile sperm whale was also found in Barangay Miranda, Babak District of the Island Garden City of Samal (Igacos), Davao del Norte.
The necropsy report showed that the distressed mammal has various toxic foreign contents inside its stomach causing its death.
The whale's stomach contains fish eyes, fish bones and cartilages, different sizes of squid beaks and numerous stomach worms which caused the mammal to succumb to death.