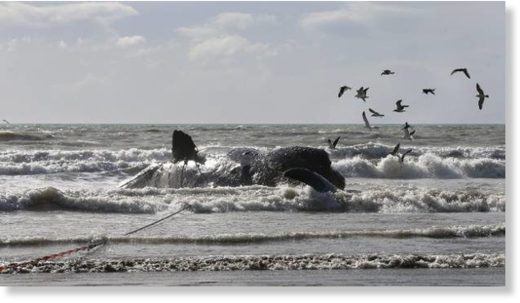 Two sperm whales in a month have been found dead off the Kaikōura coast.
The latest sperm whale, found last weekend, was a member of the Kaikōura canyon population, as was a whale found dead on Marfells Beach, in south Marlborough, in early July.
A series of buoys was attached to the animal, but it was not possible to tow it to shore due to sea conditions.
It had not been seen since the weekend, when it was moving north, but Department of Conservation staff and harbourmasters knew to be on the lookout.
DOC South Marlborough operations manager Phil Bradfield said the whales underpinned the Kaikōura economy, and the deaths would be felt by local iwi who had a "profound attachment to whales".
The stomach contents of the Marfells Beach whale were examined and found to be normal with no plastics or blockages, and a blubber sample was taken for stable isotope analysis which could give some insights on what the animal had been eating, but it was highly likely cause of death would never be known.
There were no previously recorded deaths of identifiable individuals from this population and the animals were typically young males, which made a natural death of old age unlikely.
The DOC marine mammal incidents database had 14 previous records of sperm whale deaths on the same stretch of coastline from 2009-1978, the majority of which occurred before 2000.
DOC marine species and threats technical advisor Dave Lundquist said in the absence of any reliable evidence, the possible causes were likely to remain unknown.
"Changes to the Kaikōura canyon ecosystem due to the earthquake, compounded by changes due to La Nina conditions over the last summer may have left them weakened or more susceptible to other natural threats.
"There's nothing to suggest that tourism or any other human activity has directly played a part in these deaths. We simply do not know why this has happened or whether other local Kaikōura whales will be similarly affected."
Lundquist said that due to the mass stranding of 13 sperm whales in Taranaki in June there had been a higher than usual number of sperm whale deaths around New Zealand coasts.
DOC would continue to monitor the situation, but there was nothing at this stage to suggest it would have long-term consequences for the overall population of sperm whales in New Zealand.
Previous mass strandings in 1970 (59 stranded on Wainui Beach at Gisborne) and 1994 (72 stranded at Muriwai Beach) did not appear to affect the status of the population in New Zealand.
Ngāti Kuri acknowledged the whale's death with a traditional farewell.
Source: The Marlborough Express