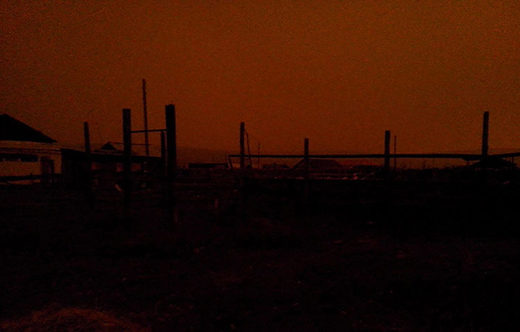 Locals in north of Yakutia said daylight was completely gone for several hours.
People from remote Eveno-Bytantaisky and Zhigansky districts turned to newspapers, begging local media to explain 'the devilry' of what happened.
Their remote communities were plunged into darkness - even though they should have 24 hour light at this time of year.
'The sun went out around 11am, and didn't come back until about 2pm.
I couldn't see a thing without switching lights on. We took torches to walk outside, but actually
no-one wanted to be on the street because the feeling was as if something heavy in the air was pressing on your chest
', said one resident.
After the sun returned,

locals found thick layer of dust covering everything outside.
Two other versions are dust or ash from wildfires that have been raging over a territory of 12,500km2 since beginning of July
Yet neither Eveno-Bytantaisky, nor Zhigansky district were close to the wildfire areas, and air was completely still on the morning it happened.
'Water in open street barrels turned into a dirty mess. Water in lakes went black because of dust'
, said an eye-witness.
Sun wasn't visible in two neighbouring districts in the extreme north of Yakutia, but
no other area of the republic reported the cataclysm.
'We wondered if this was an eclipse, but it can't be something witnessed only by two districts.
'Normally before any eclipse air temperature drops by 3,4 degrees centigrade, and true, that morning was cooler than usual.
'But our area is always quite cold, so we didn't pay special attention', said Maria from a village in Zhigansky district.