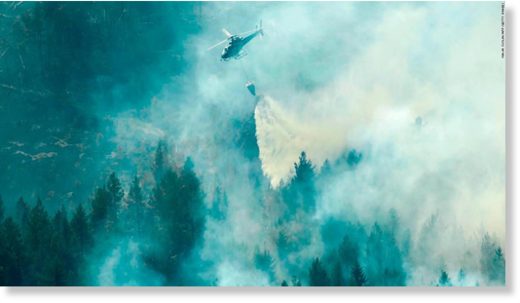 Nearly 100 people were forced to leave their homes overnight in Sweden, emergency officials said Thursday, as dozens of forest fires rage across the country as far north as the Arctic Circle.
The worst-affected areas include Jämtland, Västerbotten, Gävleborg and Dalarna counties, where residents have been advised to evacuate a number of villages.
The Red Cross will start to coordinate volunteer efforts across the country, it said Thursday, after talks with the Swedish Civil Contingencies Agency. The volunteers will help with evacuations, distribute essential supplies and give out information.
Sweden has been struggling to cope as unusually hot, dry conditions fuel more forest fires than the emergency services can handle.
Thomas Aronsson, chief of operations for SITS, a specialist firefighting service based in Sweden, said Wednesday that fire services were fighting around 80 blazes and lacked the necessary equipment.
"We need tankers, we need helicopters -- we don't have enough supplies," he told CNN. "There are 80 fires right now in Sweden, and there is no helicopter company or pilot in all of Sweden that's not involved in fighting these fires."
Smoke rising
Two firefighting planes have been sent from Italy to help tackle the blazes.
Footage posted Wednesday on Twitter by the Italian fire service from one of the two Canadair CL-415 aircraft showed smoke rising from a large area of forest. The plane was on its first mission, flying over Lillhardal, about 450 kilometers (280 miles) north of Stockholm, it said.
France's civil security service tweeted it was sending three firefighting planes to Sweden on Thursday to join the effort. Norway, which is battling forest fires of its own, has also dispatched helicopters to help out its neighbor, the Swedish Civil Contingencies Agency said.
Patrik Forsgren, who serves in Sweden's home guard, shared dramatic images on Instagram of forest fires near Ljusdal in central Sweden.
"It has been very dry this spring and summer. Last weekend, it was thunder and lightning. The lightning started three forest fires," Forsgren told CNN on Thursday. "The home guard and firefighters have tried to stop the fire since Sunday. But it's not under control."
The blaze now covers an area of 9,000 hectares (nearly 35 square miles), he said.
Fires are also burning as far north as the Arctic Circle in Norway, Finland and far northwestern Russia, according to Copernicus, the European Union's earth observation program.