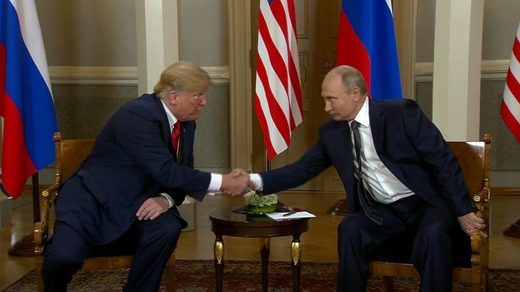 The presidents of Russia and the US have begun their meeting in Finland with a handshake and a pledge to discuss frankly all the differences between their countries - and ways to improve a sour relationship.
Vladimir Putin of Russia and Donald Trump of the US are holding their first dedicated meeting in the Finnish capital since the latter took office following the 2016 US presidential election.The relationship between the two countries is arguably at its lowest point since the end of the Cold War. Addressing journalists ahead of a one-on-one meeting with Trump, Putin said the Monday summit was a continuation of previous contacts between the two.
"We had contacts over the previous months, talked on the phone and met on the sidelines of various international events," Putin said. "The time has certainly come for a comprehensive discussion of our bilateral relations and some of the sour points that [have built-up.]"
Trump congratulated Putin on Russia's hosting of one of the best-ever FIFA World Cups over the past month and said the two leaders have matters of global importance to discuss.
"We have discussions on everything from trade to military to missiles to nuclear to China - we will be talking a little bit about China and our mutual friend President Xi [Jinping]," Trump said.
"I think the world wants to see us get along. We are the two great nuclear powers, we have 90 percent of the nuclear, and that's not a good thing, that's a bad thing," he added. "I think we can hopefully do something about it."
Trump reiterated that he thinks Russia and the US can enjoy a much better relationship than they now have.
Moscow reacts to Trump's tweet
Russia's Foreign Ministry has given a laconic but comprehensive reply to Donald Trump's tweet, in which he claimed that US-Russia ties have "never been worse" due to years of Washington's "foolishness and stupidity."
Earlier on Monday, the US president took to his favorite platform - Twitter - to describe the extent of the sour ties between Moscow and Washington. "Our relationship with Russia has NEVER been worse thanks to many years of U.S. foolishness and stupidity and now, the Rigged Witch Hunt! (sic)" Trump wrote.
The relationship between Russia and the US is probably at its lowest point since the end of the Cold War. Trump earlier stressed that he was going into the summit with "low expectations," adding that "nothing bad is going to come out of it and maybe some good will come out of it." He also caused waves of heated discussion across the internet after tweeting that even if he were granted Moscow as retribution; his critics would say it's not good enough.
US Secretary of State Mike Pompeo insists that the prospect of improving ties between Moscow and Washington is in Russia's hands. Presidential spokesman Dmitry Peskov, however, believes that the Putin will definitely put Russia's interests first but will respect Trump's 'reciprocal beliefs.' "This principle works for any head of state. Any head of state, when talking to their foreign counterparts, has to take care of the interests of their state," Peskov added, speaking to RT.

Comment: Since both Trump and Putin are operating from the same philosophical stance, there is a solid basis for negotiation. Trump however, is hobbled domestically and will likely not be able to bargain as freely as he would like. Putin will prudently take this into account.


Journalists & pundits rush to interpret opening remarks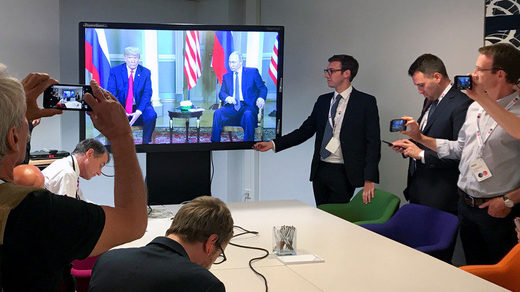 Following standard protocol, Donald Trump and Vladimir Putin exchanged brief remarks in front of the press before their meeting in Helsinki, inspiring journalists and pundits to delve into deep and slightly premature analyses.
Sitting next to each other, Trump and Putin offered up a few off-the-cuff comments to the press about what the two leaders hoped to achieve during their meeting. The brief and rather unremarkable exchange was immediately pounced on by journalists and pundits, who provided wide-ranging verdicts on a summit that had barely just begun.
The
New Yorker's
Moscow correspondent had a particularly fresh take on the unspectacular encounter, noting that Putin had employed sneaky KGB tactics by ... listening to what Trump was saying.

Comment: Showing respect for a fellow head of state. Dastardly!


Others worried that Trump had already been outgunned by Putin - who came armed to the meeting with a notepad and pen.
But Trump's biggest sin was not diving headfirst into unproven allegations of Russian nerve-agent attacks, according to David Corn,
Mother Jones'
DC bureau chief. The US president was also caught winking.

Comment: Good thing David Corn wasn't in that meeting.



Comment: They're putting on a show for the press before getting down to serious business. Trump shouldn't have a little fun? He knows the press will go bananas and Putin knows it too.


Finally, Eliot Higgins employed his mastery of social media forensics to expose Donald Trump's less-than-stellar command of the English language. More proof that Trump is really a crypto-Russian?