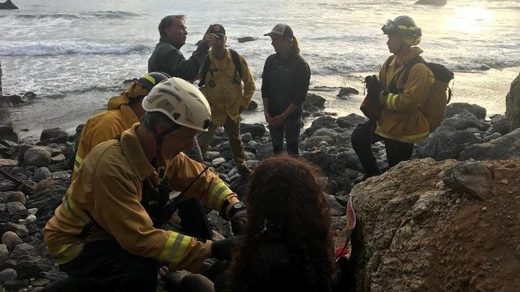 In a survival story fit for Hollywood, a woman has been found alive a week after she plunged off a California cliff in her jeep. The woman survived by drinking her wrecked car's radiator water until she was discovered by hikers.
Angela Hernandez, 23, was found on Friday after hikers noticed her Jeep Patriot SUV partially submerged at the bottom of a cliff in the Big Sur area. She was rushed to a nearby hospital by helicopter. The Oregon woman was conscious but had a shoulder injury and appeared to have suffered a concussion, police
said
on Saturday.
Hernandez told investigators that she plunged off the 200 ft (60m) cliff after swerving to avoid hitting an animal on Highway 1. She had been driving on the scenic coastal road from her home in Portland to Los Angeles.
The 23-year old stayed alive by "drinking water from the radiator of her vehicle," but was lucky to survive the fall at all, according to Monterey County Sheriff's Office spokesman John Thornburg.
"It's usually the fall that gets them, or the ocean that gets them, and she was lucky to survive both," he
said
.
Hernandez had been declared missing when she appeared to vanish after CCTV footage captured her at a Carmel gas station on July 6, around 80km (50 miles) north of Highway 1 where she was found.
"My sister is alive, she's talking, and she's still trying to come to understand everything,"
wrote
Angela's sister Isabel Hernandez on Facebook.
"She's a fighter and she fought this long and she will continue to. It's not going to be an easy recovery. I hope everyone will have patience for her and her recovery."