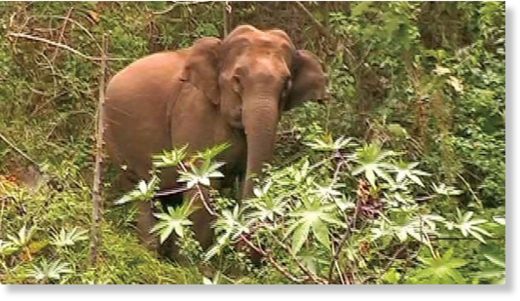 Jumbo menace resurfaces in newer forms
A wild elephant has begun to target vehicles and motorists in particular in the Mooparkadu village area near here. Foresters are now escorting buses.
While the wild elephant menace has almost become a regular phenomenon in this wildlife rich district of Nilgiris,
it was really strange to see this one straying into Mooparkadu village limits, often hiding in bushes near the second hair-pin bend along the narrow Coonoor-Mooparkadu road and then chasing vehicles that happen to pass that area.
Stating that this elephant gets agitated on hearing the sound of vehicles plying on the road or seeing vehicles, Mr. Maruthan, a resident in Mooparkadu said that the animal chased and attacked vehicles. "While a state owned bus is being operated once in the morning and in the evening between the village and nearby Coonoor town - the lone public transport system for villagers and school students-,
over the past two days the elephant tried to block and attack the bus.
It was often doing so from the second hair-pin bend. Motorists have to drive vehicles in the reverse direction or passengers should come down in groups to chase it off to continue to travel," he noted. Forest sources said that this elephant might be psychologically disturbed by the sounds of the vehicles that make it turn violent. "So for it is only enacting a mock-chase but has not attacked anybody. Foresters are monitoring the situation," sources added.