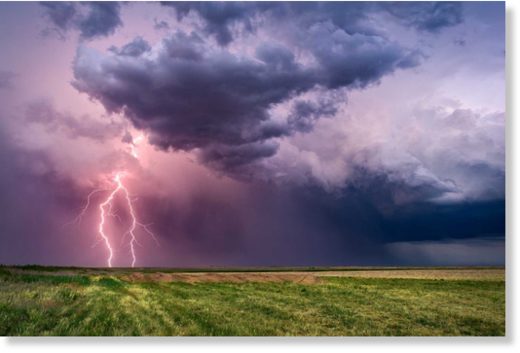 Four people, including a 4-year-old girl, were struck by lightning in two separate Fourth of July gatherings for fireworks on Wednesday, authorities said.
The young girl and an 18-year-old man were first hit by a bolt of lightning as people gathered to watch a fireworks show at Robertson Field in Sheridan, Illinois, about 65 miles southwest of Chicago. Sheridan's fire chief, Kurt Tirevold, told WLS-TV that both victims were critically injured, with the girl receiving a direct hit and the teen suffering a ground shock.

A physician and two off-duty firefighters performed CPR on the girl before emergency responders arrived. They likely saved the girl's life, Tirevold said.
Witnesses told the station that even at several yards away, they felt the lightning strike, which scattered tree bark throughout the field.
"I seen it come down," Briana Hoops said. "I don't think it even struck the tree. I think it struck the ground. I just seen one man laying there and I see a woman screaming. That's when the ambulance were coming. It actually took a while for them to come ... So I didn't know if he was already gone. I'm hoping he survives."
Another witness, Melissa Herring, said she felt as if the lightning "traveled through the ground" just prior to the fireworks show, which was later canceled.
Hours later, in Chicago, two other people were struck by lightning along Lake Michigan during severe thunderstorms following the city's fireworks display, the Chicago Tribune reported.
A woman who was struck near Maggie Daley Park was taken to a hospital in serious to critical condition, but she later stabilized, fire officials told the newspaper.
A man standing with revelers at Belmont Harbor told police he saw a flash and felt a "charge" during the thunderstorm, but was conscious and alert when paramedics arrived. He declined to be taken to a hospital, police said.