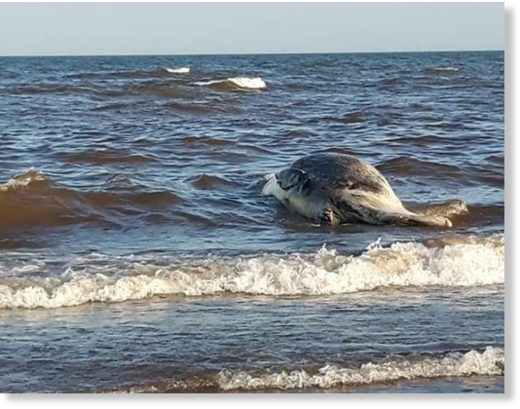 Fisheries and Oceans Canada still trying to identify the species, but say it's not an endangered right whale
A dead whale has washed up on the shores of Petit-Pokemouche Bay on the Acadian Peninsula.
Fisheries and Oceans Canada officials have not identified the species yet, but it is not an endangered North Atlantic right whale, spokesperson Steve Hachey told CBC News.
They believe it "is likely" a minke whale, but decomposition is complicating the identification process, he said. Further analysis is required, he said.
"Minke whales are not considered endangered, however DFO is concerned about the death of any whales in our waters," Hachey said in an email Tuesday afternoon.
Tina Casavant Robichaud, who discovered the carcass on Monday night, said the whale appears to have been injured.
"We can see marks," said Casavant Robichaud, who took several photographs and a video of the whale, which she posted on Facebook
In the United States, minkes are protected under the Marine Mammal Protection Act.
Minkes are one of the whale species Fisheries and Oceans Canada's science branch is tracking through aerial surveys this summer, said Hachey.
(Read more
here
)