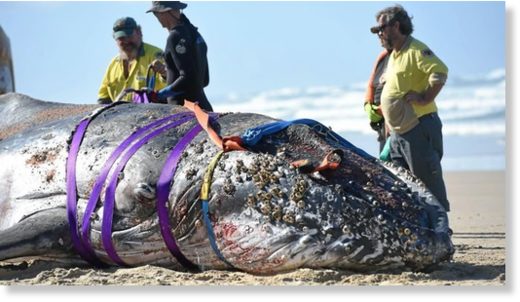 A juvenile humpback whale has been found dead on a beach in northern New South Wales.
The body of the 8.8 metre humpback was discovered early this morning, wallowing in the shallows on Tallow Beach, about two kilometres south of Cape Byron.
Marine animal rescue group ORRCA was alerted shortly before 8am, and National Parks and police arrived on scene.
National Parks and Wildlife Services (NPWS) ranger Keely Markavino said they were in the process of figuring out the best way to remove the carcass and dispose of it elsewhere.
"The main thing to note is that it won't be disposed of at the beach because that poses its own risk, so it will be disposed of in another safe, designated area," she said.
Ms Markavino said removing the whale was logistically difficult and beachgoers would be excluded from the area during the process.
"It is a large animal, it can roll in the surf zones, so we just have to make sure all necessary precautions are taken to be aware of those kinds of risks and mitigate any risks," she said.
"At the moment we haven't seen any shark activity and we aim to remove the carcass as soon as possible."
An aerial drone has been deployed over the area in a bid to shed light on any shark behaviour.
(Read more
here
)