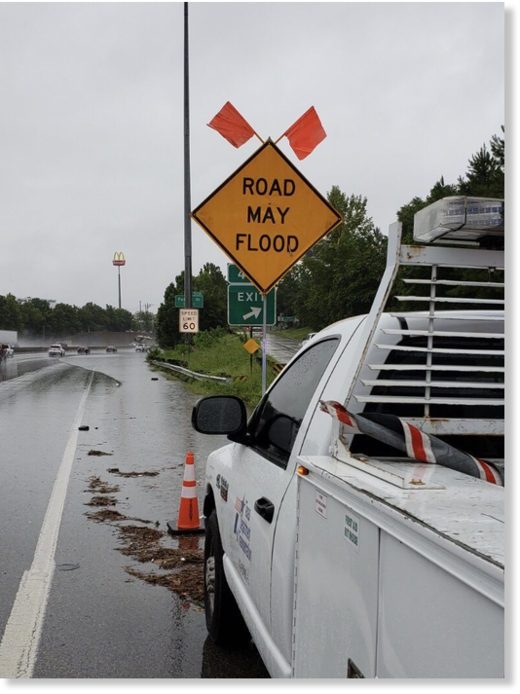 Heavy rain caused surface flooding in Houston, Texas, on 04 July 2018, dampening Fourth of July celebrations in the city.
At least 18 locations in Harris County recorded more than 7 inches of rain in 24 hours. Some central areas of Houston recorded 7.80 inches (198.12 mm), according to figures from Harris County Flood Control District. Several bayous, including the White Oak Bayou, broke their banks.

By around 13:00 on 04 July, Texas Department of Transport, Houston, reported flooded roads in 17 different locations across Houston.
Houston Police Department said they responded to dozens of calls from stranded motorists. Later the department said via Social Media "Since 6 a.m. - about a 12-hour stretch - we've had 167 vehicles removed and towed." No injuries or fatalities were reported.
Other areas of the state also saw heavy rain, and National Weather Service (NWS) Houston said there were new daily highest rainfall records set at Galveston, 2.22″ (previous 2.14″ in 1942); Hobby, 6.00″ (previous 3.04″ in 1942) and Intercontinental, 4.19″ (previous 3.49″ in 1942).
A NWS river flood warning is in effect for the West Fork San Jacinto in Humble. As of early Wednesday 04 July, the river stood as 49.35 feet. Minor flood stage is 49.3 feet.
Social Media
Widespread heavy rain in the Houston area has shifted to the west. Smaller bayous have crested already, some of the larger bayous and the San Jacinto River will be rising into action stage or minor flood. For local impacts, check NWS Houston at https://t.co/I9hrJ1wi5o #txwx pic.twitter.com/ERRjFd5qau

— NWSWGRFC (@NWSWGRFC) July 4, 2018